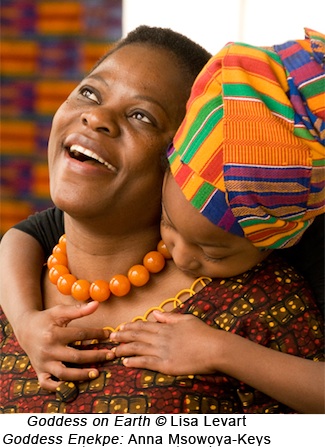 by Lisa Levart
Mother's Day in America didn't begin as a commercial holiday, but as a call for peace and women's activism. In 1870, horrified by the human devastation from the Civil War, Julia Ward Howe — better known as the author of "The Battle Hymn of the Republic" — conceived of an International Mother's Day in which women would come together and promote "the great and general interests of peace." Women need to rally, thought Julia Howe, so that their sons would no longer be sent to war to kill other mothers' sons.
It makes sense that women's crusading for peace was crystalized through the lens of motherhood. A powerful and commonly recognizable archetype, the Mother speaks to the universality of human experience — to our shared ties as family and community members, regardless of our nationality, race or tribe.
One of the most extraordinary women I have ever met is Anna Msowoya-Keys, a fellow Rockland County resident. Anna is an activist who divides her time between the U.S. and Africa as the founder of Maloto: an organization that works to empower women and girls in her native country of Malawi. With ferocity and dedication, Anna has devoted herself to providing the resources and education these women need to help their communities heal from extreme poverty and HIV/AIDS. In my book Goddess on Earth, Portraits of the Divine Feminine, Anna chose to embody a mother goddess, Enekpe, the African goddess of family.
Maureen Mwalughali, a member of Maloto's Kwithu Women's Group, helps run a program which feeds hundreds of orphans and vulnerable children a week; for many, this is the only food they receive. Maureen also chose to embody a mother goddess — in Dinka mythology, the goddess Abuk is the patroness of women and gardens. In Goddess on Earth, Maureen wrote:
"Talking doesn't fill the basket from the farm; success requires planning and hard work".
A third, inspiring woman from Goddess on Earth is Tashi Dolma, the founder of Tibetan Home of Hope: a nonprofit organization that provides food, shelter and education to children in Tibet who would otherwise be abandoned. Tashi is an amazingly strong woman who fled her native country during the freezing winter months in 1990. She has fought for the rights of Tibetans at home and in exile and persevered in her goal to protect Tibetan culture. In Goddess on Earth, Tashi embodied Green Tara, a female Bodhisattva known as "the mother of compassion."
These women and their portraits demonstrate personal strength, compassion, love and joy — the tools the Mother uses to overcome obstacles in her path. This Mother's Day, let's honor women like Julia Ward Howe, Anna Msowoya Keys, Tashi Dolma and Maureen Mwalughali who have recognized the transformational power of the Mother. With her open heart and loving hands, she engenders change and shows all of us the way to peace.
To learn how you can help these women with their work, visit the Maloto and Tibetan Home of Hope websites.
Lisa Levart is an award winning photographer whose images have appeared in numerous publications and exhibitions worldwide. Her book of portraits, Goddess on Earth,  was just awarded the GOLD Nautilus Book Award and features many women from the Rockland area. Goddess on Earth can be purchased at Saffron and Sanctuary in Nyack, The Outside In and Ned Kelly & Company in Piermont and online at GoddessOnEarth.com.