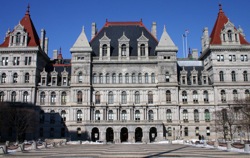 Albany, May 1 — Assemblywoman Ellen Jaffee (D-Suffern) and Senator John Flanagan (R-East Northport) are calling for passage of new legislation that requires insurance companies to cover supplemental screenings for women with dense breast tissue.
"Scientific research says women with dense breasts are between four and six times more likely to get breast cancer and it will be caught only about 50% of the time by mammogram," said JoAnn Pushkin, Executive Director of Are You Dense Advocacy, Inc. "It's a life threatening double whammy — and yet there is no standardized protocol for informing women about their own breast density and associated risks." Pushkin, a breast cancer survivor-turned-advocate from Dix Hills, NY, contacted Flanagan and Jaffee to share her story and lobby for action on breast density. Jaffee credited Pushkin's advocacy for introducing the new legislation.
'€œWhen it comes to breast cancer, women have a right to know what they're up against,'€ said Jaffee. '€œThis bill will empower women to fully understand the risks posed by dense breast tissue and ensure that, should they need it, additional screening coverage is available. It is critical women have every screening tool at their disposal,'€ she said.
Flanagan added that's critical to raise awareness of the issue. '€œBreast density and its impact on breast cancer are topics that many people across our state '€" men and women '€" are unaware of and one that can have a significant impact on the treatment of this terrible disease," he said.
"We are moms, wives, grandmothers, sisters and daughters '€" and these are preventable tragedies," said Puskin. "The women of New York and the men who love them need to demand that information about a woman's breast density be included in the letter she receives after her mammogram.  Without this vital information, the letter is a lie by omission."
See also: