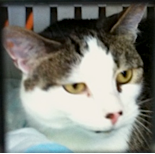 by George Griggs, Hudson Valley Humane Society
Liberty saved many lives during her tenure as a blood donor cat at a local Rockland County veterinarian. Now it is our turn to serve Liberty by giving her the forever home of her dreams.
This a 6-year-old female domestic shorthair is a retired blood-donor cat living at the Hudson Valley Humane Society (HVHS) in search of a home. Liberty gave service without complaint and more than 250 cats have her to thank for a new lease of life.
Blood-donor cats play a critical function in veterinary medicine by giving blood in emergency medical cases. Liberty has received the utmost medical attention, is FIV/AIDS/Leukemia negative, spayed; and is up to date on shots and dentistry. Liberty would do best in a home where she is the queen bee, with no other cats to share the affection of her forever family. She deserves the undivided attention after the service she has given.
Already the HVHS has found homes for a half dozen of these brave and self-less felines. Now it is our turn to serve Liberty and get her that forever home she has dreamed of having.
The Hudson Valley Humane Society was founded in Rockland County in 1891 as a Society for the Prevention of Cruelty to Animals. The HVHS has promoted animal welfare in the Hudson Valley for more than 120 years.
HVHS subscribes to the '€œno kill'€ philosophy and promotes adoption of abandoned or unwanted pets. HVHS encourages spaying and neutering of pets to curb animal overpopulation. HVHS pursues eliminating animal cruelty and abuse by investigating and prosecuting violators. For pet-owners and non-pet-owners, HVHS conducts free public education programs in proper pet care and appropriate respect for the welfare of all animals.
As a privately funded 501©3 charity, contributions to HVHS are deductible from federal and state income tax. HVHS serves the Hudson Valley and is not funded or affiliated with any other animal welfare organization.
Won't you consider helping Liberty? After all she has done for others, it's the humane thing to do.
George Griggs is a volunteer at the Hudson Valley Humane Society, 200 Quaker Road in Pomona, NY. Call 845 429-6791 if you can help find a home for Liberty.