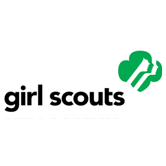 by Jean Havens
Girl Scouts from all over the Hudson Valley will try their hand at being dress designers in the second annual "Project Girl Scouts" event, a design competition for girls ages 11-17 who are members of area Girl Scout troops.  Teams of Girl Scouts have been challenged to design a dress using materials from '€œtool kits'€ provided by the Palisades Center.
The 14 teams selected for the design competition will use the design elements in each kit to create their team's season-themed dress. Winter, spring, summer and fall bags were randomly distributed at a Palisades Center kickoff meeting on May 2 and the teams have been working for the past two weeks on their design.  Only the materials in the tool kits could be used for their creation, aside from the addition of scissors, staplers and glue.  Each unique kit contained season-specific elements.  The project's challenge is to have the girls create an attractive dress for the season, using shopping bags from Palisades Center vendors as the main material. The vendors' bags provide a variety of design elements, some simple, and some elaborate.  The Girl Scout teams could choose to use only the bag handles, for example, or to use every bit of paper, vinyl and splash of color in their tool kit.
The recycled materials theme is an action challenge for Girl Scouts' Forever Green initiative, launched in celebration of Girl Scouts' 100th year. A major emphasis of Forever Green is to reduce waste, and Girl Scouts across the country are learning about the effects of waste on our environment. The goal is to reduce the number of discarded single-use plastic bottles and bags, and increase aluminum recycling rates. By using shopping bags in their seasonal fashions, the girls in this contest are giving single-use bags a second life as decorative elements!
Creations will be revealed on May 18 at 7p when each design will be judged by a panel.  The winning design for each season will be displayed for two weeks at the Palisades Center. Last spring, ten Girl Scout teams vied for the honor of displaying their creations on vintage mannequins. Each winning team took home a bag of goodies and bragging rights.
Jean Havens is the Director of Communications for Girl Scouts Heart of the Hudson, Inc.