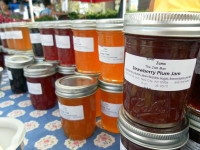 Nyack, May 10 — The Nyack Farmer's Market opens for its 2012 season today with a ribbon cutting, music and lots of farm fresh food. You can find Nyack's Farmer's Market on Main Street at S. Franklin adjacent to Riverspace. Free parking is available in the adjacent municipal parking lot. The market is open every Thursday until Thanksgiving from 8a-2p.
The 2012 season will officially opened at 8a with a ribbon cutting attended by Nyack Mayor Jen White, New York State Assemblywoman Ellen Jaffee and Orangetown Supervisor Andy Stewart. Kids' entertainment will be provided by Jeffrey Friedberg and the Bossy Frog Band from 11a-12p.
Attracting upwards of 1,000 shoppers every Thursday, the Market's 20 vendors offer a broad array of local products '€" including cut flowers; farm fresh/organic fruits and vegetables; free-range poultry and eggs; fresh pickles, sauerkraut and olives; vegetable and herb seedlings; fresh baked goods; gourmet spreads; honey and maple syrup; coffee; gluten-free baked goods, pies and cookies; gourmet seafood, pasta and homemade sauces; hummus and Middle Eastern delicacies; handmade cheeses; fine local wines and cider.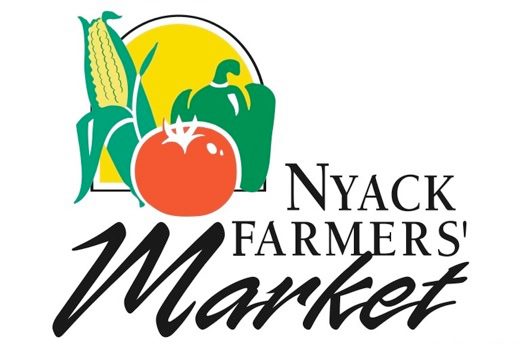 Sponsored by Nyack's Chamber of Commerce, the weekly fresh from the farm event is one of the oldest markets in the tri-state area operating for 20+ years. "We're proud to support local, eco-friendly farmers, artisans and food producers," said Scott Baird, president of the Nyack Chamber of Commerce.
Green Mountain Energy Company is the corporate sponsor for the 2012 Farmer's Market. '€œGreen Mountain was founded with the mission to change the way power is made,'€ said Corinna Ricard-Farzan, Partnerships Coordinator at Green Mountain. Although new to Nyack's Farmer's Market, Green Mountain is the longest serving retailer of cleaner energy in the country and can claim saving over 19.4 billion pounds of carbon dioxide emissions over the life of their company. "That's like taking over 1.7 million cars off the road for a year,'€ said Ricard-Farzan.
Vendors at the 2012 Nyack Farmer's Market include:

Bill Batson Arts
Bluefield Farm cut flowers, wildflowers, plants and herbs
Dines Farms free-range poultry, eggs, bacon, chicken sausage
Dr. Pickles fresh pickles, sauerkraut, olives, marinated mushrooms/peppers
Go-Go Pops fresh fruit ice pops, 80 varieties
Hook Mountain Growers seedlings (May and June)
Hummingbird Ranch honey & related products, maple syrup, beeswax skin cream & lip balm, beeswax candles
Madura Farms mushrooms, fiddlehead ferns, sprouts
Meredith's Bread fresh baked goods
Mostly Myrtle's gluten-free biscotti, muffins, brownies, coffee
The Orchards of Concklin fruit, produce, eggs, pies, honey, cookies
Panzarella Foods crab cakes, mozzarella, gourmet seafood, pasta, homemade sauce, fresh bread
Pie Lady & Son pies
R&G Produce farm-fresh produce
Taiim Falafel Shack hummus, cucumber salad, babaghanouj, baklava, Middle Eastern specialties
Taliaferro Farms organic produce
Valley Shepherd Creamery handmade sheep-milk cheese
Warwick Valley Winery fine local wines and cider
Zar & Company brioche bread, spice blends, Mediterranean version of pb&j, variety of spreads
Gardiner Eucalyptus fresh eucalyptus (August)
See also: "At The Farmer's Market" series on NyackNewsAndViews
Photo Credit: Nyack Chamber of Commerce