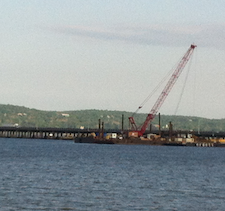 by Tish DuBow, Mayor of South Nyack
The NYS Department of Transportation began a series of Tappan Zee Bridge pile driving tests on Saturday, May 5. The noise was heard all over the Village of South Nyack and as far North as Hook Mountain. The pile driving continued until about 6:30p.
Village officials contacted the Department of Transportation to lodge a complaint and to seek more information. We also requested the DOT to give South Nyack advance notice of the schedule so residents can stay informed.
The DOT has informed us that they are scheduled to drive another pile on the Westchester side on Saturday, May 12. Two piles will be driven on the Rockland side midday on Tuesday, May 15. They will then drive one more pile on the Westchester side on Thursday, May 17.
This will complete the pile driving. After six or seven weeks, they may strike the piles a couple of more times to see if they have settled, but those strikes would be done in a few minutes.
The pile driving is part of a pilot study to gather data for the Tappan Zee Bridge replacement project. They are driving test pilings into the riverbed to test how well they will support the weight of the new bridge. They are driving seven piles in total for the pilot project. The first two pilings were driven into the river on Saturday May 5.
Each pile takes about an hour and a half. They use a combination of vibrating and pile driving to set the piles. They are also testing sound mitigation techniques during the driving. They first measure without any mitigation and then try and measure different techniques. This is why the driving stops and then starts again. DOT has stated that they have noise measuring instrumentation in place at Salisbury Point adjacent to the Tappan Zee landing in South Nyack and they also have a person walking around the village with a hand held device taking measurements.
The DOT contract with the firm doing the work allows them to work from 7a-7p seven days a week, however, they don't generally work on Sundays. South Nyack has requested that the DOT instruct the contractor to abide by village restrictions of 8a-7p Monday through Friday, with quiet days on Saturday, Sunday, and holidays.
The South Nyack Village Board is deeply concerned about the disturbance this activity imposes on our community. We continue to push the state to minimize the impacts on our residents.
Tish DuBow is the Mayor of South Nyack, NY. This story originally appeared on NYaltnews.com.