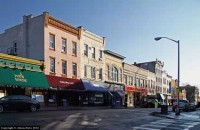 Nyack, May 30 — An ad-hoc group of merchant trade associations, civic groups and non-profits are working together to create a "Nyack Brand" which they hope will create a unique identify for the village. The Nyack Brand Association (NBA) — a joint collaboration of the Chamber of Commerce of the Nyacks, the Friends of the Nyacks, ACADA (Art, Craft & Antiques Dealers Association), Nyack Hospital and The Nyack Library — wants to hear from you. The group is soliciting input from the public and other community and businesses groups about its proposed village slogan and a design for banners that will hang from light posts on Main Street.
To participate in one of the planned focus groups, email NyackBrandAssociation@gmail.com or call 845-535-9191.
"A brand is a customer experience represented by a collection of images and ideas; often, it refers to a symbol such as a name, logo, slogan, and design scheme. Brand recognition and other reactions are created by the accumulation of experiences with the specific product or service, both directly relating to its use, and through the influence of advertising, design, and media commentary." — American Marketing Association
Over the last ten months the NBA has conducted a feasibility study and completed research and development work towards developing a unified brand and banner program for the village. "Nyack is a diverse community with many business and civic groups all working for similar goals," said Paulette Ross, chairman of the NBA. "We saw an opportunity to unite these groups around a common cause in order to open the communication channels and improve Nyack." South Nyack business consultant Art Clark has been leading the effort along with Ross since the group was formed last year.
Each of the five business and civic groups has been asked to invest $2500 to join the Nyack Brand Association to cover the costs of hiring a branding consultant. The focus groups planned over the next few weeks replace a Friday May 4 public meeting that had been cancelled due to concerns about low public attendance.
The Nyack Brand Association 's initial goal is to create a unified image for Nyack that can be used as part of a street banner program that will roll out this summer. The NBA will manage advertising, public relations and marketing campaigns with the goal of drawing new visitors and commerce to Nyack.
Photo: Main Street in Nyack, 1/12/2012 Credit: ©2012 alison perry alisonperry.photoshelter.com/index