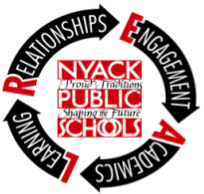 Nyack, May 11 — Three candidates compete for two open seats in the annual school board election next Tuesday, May 15. Voters will also be asked to approved the 2012-13 school budget. Polls will be open from 7a-9p.
Here are statements submitted by each candidate, listed in alphabetical order by the second letter of their last name.
Dan Kaplan – I am running for the school board because I passionately believe in public education and feel that I have the skills and experience needed to make a positive and decisive contribution.
I believe that my skills, insights and experience as an educator are strong qualifications for the Nyack School Board.  My many years of classroom teaching, counseling of students and serving as an administrator, in addition to being an active parent to my school-age children, have influenced my conviction that a quality education must focus on depth of knowledge, critical thinking and creative and rigorous learning. Continue reading…
Claudette Clarke – Twelve years ago when I started out on this odyssey, I knew that I had taken on a daunting task with many challenges ahead. My parents had always instilled in me the importance of a good education because of the possibilities it afforded. I in turn instilled this value in my own children. Driven by my passion for children, and the value of a good education, I have devoted the past twelve years of my life to working with my fellow board members of the Nyack School Board to fulfill my dream that all children will succeed and to ensure that we do everything possible to fulfill the Nyack Board of Education goals. Continue reading…
Karen Hughes – I have spent over 20 years in Investment Banking technology, as a Software Engineer and Program Manager. In my role as a technology manager, my job is to engage, listen, evaluate and make sensible decisions that are driven both by my convictions and the facts. I have been successfully doing this my entire professional life. I have developed keen analytical skills along the way, and demonstrated thought leadership. Continue reading…