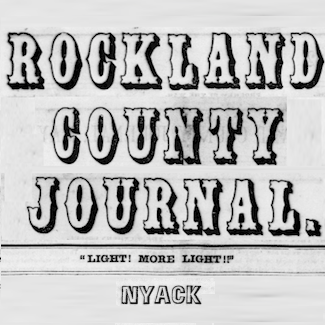 by Brian Jennings
The headline in the Rockland County Journal demanded readers' attention. But considering the time at which it was written, it was a huge understatement of the raw emotions which engulfed the nation.
150 years ago this week the Rockland County Journal considered the historical precedents and the practical implications of emancipation. In "A Serious Question," the anonymous author considers the cases of British and French imperial emancipation; yet he does not consider the more immediate example of the gradual emancipation of slaves in New York State.  It is likely that the writer felt by this time there was no longer a gradual option and emancipation needed to be immediate. Still, the article attempts to remain impartial.
The article includes a shocking, unimaginable and impractical solution to slavery, attributed to President Lincolnamong others. "To be effectual this remedy must be thorough.  The entire four millions must be exported." The Rockland County Journal takes issue with this citing the "monstrous difficulties of exporting [four million] human beings against their will."   In this article we find the stories of the proposed colonization of African Americans in either Central America or perhaps Haiti, Cuba or another island in the Caribbean.
Today we find this horrifying and absurd, yet as late as December 1862 Lincoln told Congress, "I cannot make it better known than it already is, that I strongly favor colonization." Lincoln changed his strategy on January 1, 1863 when he signed the Emancipation Proclamation.  Although limited to freeing slaves in the areas of rebellion not already under Federal control, it undoubtedly made the Civil War about the emancipation of slavery and not simply the restoration of the Union.
Brian Jennings is the local history librarian and librarian supervisor at the Nyack Library. This article is part of a series extracted from scanned copies of the 1850-1884 Rockland County Journal which include The Civil War and the period in which realist painter Edward Hopper lived in Nyack. They provide us with a snapshot into what life was like in Nyack and Rockland in the late 19th century.
See also: