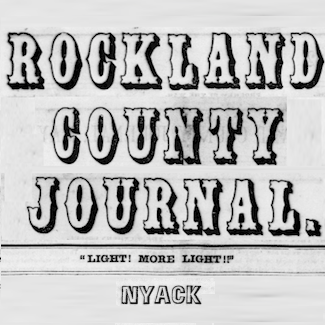 by Brian Jennings
On May 2, 1862, the death of Abram Blauvelt, a volunteer from Orangeville in Rockland County, was reported in the Rockland County Journal. Blauvelt died at Roanoke Island of Typhoid fever. Abram Blauvelt was listed in the 1860 census as a 17 year old shoemaker. It was the death of a son, a neighbor and a perhaps a valued employee in an important Nyack industry: in the 19th century, shoemaking was an important trade and the village was once known as '€œshoetown.'€
Twice as many Civil War soldiers died from disease as from battle injuries according to Drew Gilpin Faust's This Republic of Suffering: Death and the American Civil War. Death from illness offered "all the evils of the battlefield with none of its honors," observed an Iowa solider. Faust discusses the role of the "Good Death," which is essentially the need to assure the family of the dead that their soul was right with God. The article mentions that Blauvelt was a member of the Sabbath School at the time he enlisted which hints at this. It also affirms the importance of his sacrifice saying: "He has now given to his country all it is in the power of man to give, and his name has been entered on the muster roll of his country's heroes and martyrs."
In his article Civil War History, Binghamton University Demographic Historian J. David Hacker estimates that between 752,000 and 851,000 people died during the American Civil War. Hacker used based on digitized census records to calculate that estimate, a number significantly higher than the 618,222 death toll number historians had used for over 100 years.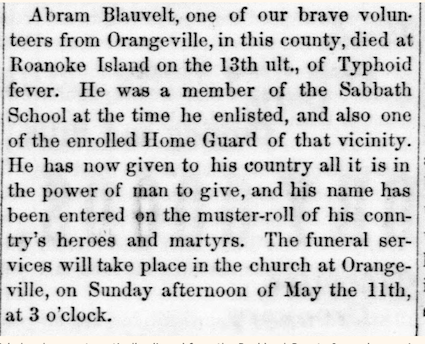 Locally, 16 percent of the men who went to war didn't come back alive, according to Frank Green's 1886 History of Rockland County. A total of 558 men answered the call to arms and served out of a total population of 3,979 of military age; 89 died during the war. "Surely anyone who lived in those days of dread; dread if a battle was not fought the South would be successful; Dread if a battle was fought, that the lives of loved ones might have gone out in a conflict, or that they might be lying sorely wounded," writes Green. "Surely, anyone who has passed through such heartache, in a measure understands what is meant by war."
Although Rockland was far from the front lines, it was likely that everyone knew or was related to someone who went to war in the sparsely populated rural county. Along with death notices like the one for Abram Blauvelt, these numbers show how death had become ingrained into the culture of American society during the war and the sacrifices made to ensure that all men would be free.
Brian Jennings is a local history specialist and a supervisor at the Nyack Library. This article is part of a series extracted from scanned copies of the 1850-1884 Rockland County Journal which include The Civil War and the period in which realist painter Edward Hopper lived in Nyack. They provide us with a snapshot into what life was like in Nyack and Rockland in the late 19th century.
See also:
Other stories in the 150 Years Ago in Rockland series:
Sympathetic Treason, Rockland County Journal, May 17 1862, Page 2
Emancipation, Deportation in 1862, 5/12/2012
The Death of a Volunteer, 5/5/2012
A Nation At War With Itself: Letter To Nyack, 1862, 4/28/2012
Edward Hopper, Rockland Co Journal Go Digital, 3/29/2012