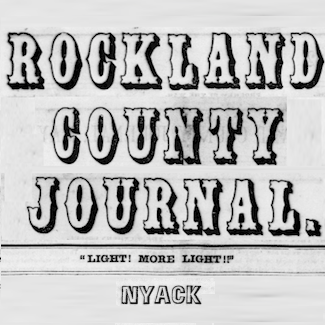 by Brian Jennings
A divisive moral issue that pits neighbor against neighbor and is the talk of the nation. Maybe its a measure of how far we have come as a nation that this description could be used to describe Gay Marriage today — or just as easily 150 years ago when Rockland County debated the impending War Between The States.
On May 17 1862, The Rockland County Journal ran the editorial Sympathetic Treason," a plea against sympathy for the South and a battle cry for the North.
"The loyal North has been wounded to the heart, and on a score of battle fields, she weeps for her children slain." The significance of the war was emphasized and described as "solemn and critical upon the nation as the Revolution was."  — Rockland Journal News, May 17 1862
This is a unique aspect of American history that each battle for the expansion of freedoms hearkens back to the Founding Fathers and the American Revolution.
And for those of you who tire of the Tappan Zee Bridge talk in the 21st century, there's 19th century talk this week about the steamship travel from Nyack to Tarrytown. "The Steamer Issac P Smith will leave every morning, except Sundays from Haverstraw" with stops at Rockland Lake, Nyack, Tarrytown, Irvington and Yonkers "returning, will leave New York, Harrison St Pier, every afternoon at 3:30 o'clock."
Also this just in: "NOTICE.'€"The subscribers would respectfully inform the citizens of Piermont and vicinity, that arrangements have been made with the Nyack and Piermont Stage Line, to carry Passengers to and from New York, by way of Nyack, and with their line of Steamboats.'€" Commencing May Ist, 1862….Fare Tenant Cents. All Freight shipped by their line will be carried on the most reasonable terms, and delivered daily at Smith's Dock, Upper Piermont. John* V. Matthews, Agent, Piermont. D. D. & T. SMITH."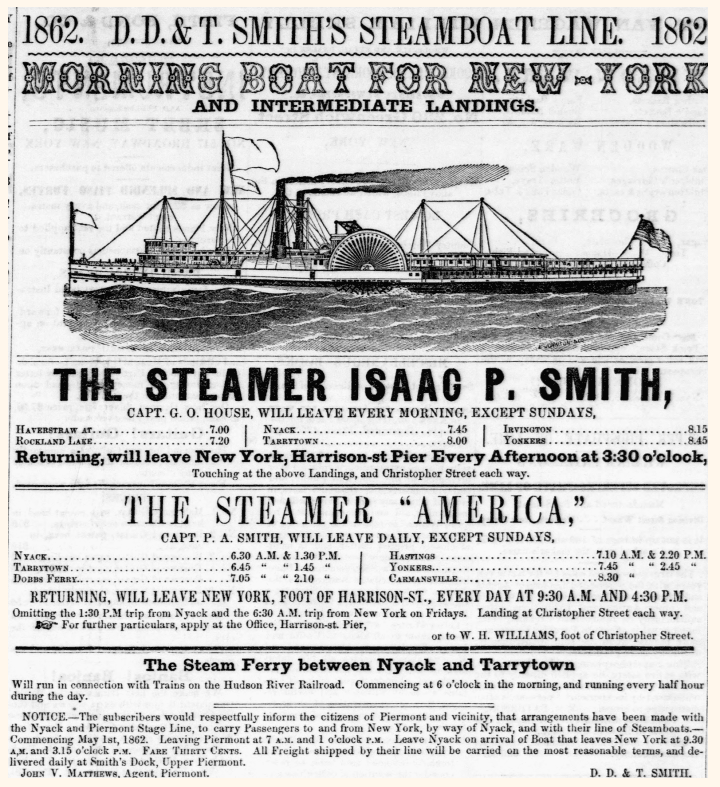 Brian Jennings is the local history librarian and librarian supervisor at the Nyack Library. This article is part of a series extracted from scanned copies of the 1850-1884 Rockland County Journal which include The Civil War and the period in which realist painter Edward Hopper lived in Nyack. They provide us with a snapshot into what life was like in Nyack and Rockland in the late 19th century.
See also:
Sympathetic Treason, Rockland County Journal, May 17 1862, Page 2
Other stories in the 150 Years Ago in Rockland series:
Emancipation, Deportation in 1862, 5/12/2012
The Death of a Volunteer, 5/5/2012
A Nation At War With Itself: Letter To Nyack, 1862, 4/28/2012
Edward Hopper, Rockland Co Journal Go Digital, 3/29/2012