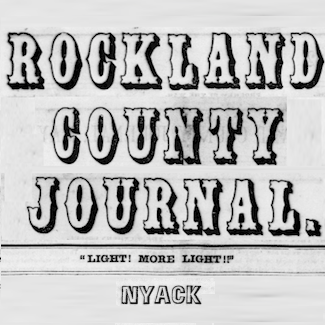 by Brian Jennings
150 years ago this week the Civil War waged on — and some of the Union generals decided to take bold personal action to advance the cause of emancipation.
Union General David Hunter issued a declaration that freed the slaves in Georgia, South Carolina, and Florida which was immediately overturned by a presidential proclamation. Lincoln asserted his power as commander and chief to reaffirm his more gradual approach to the abolition of slavery.
Just a few weeks earlier, "A Serious Question," an article which examined the prospects of emancipation, was published in The Rockland County Journal.
General Hunter was not the only Union General to attempt emancipation in the field of battle.  In August 1861,  General John C. Frémont issued a limited emancipation decree, freeing the slaves of Missouri rebels. Lincoln subsequently ordered Fremont to rescind this order relieving the future US Senator from California of his Civil War command.  Frémont is buried in Rockland Cemetery in Sparkill. Hunter served with Frémont in Missouri.
DAVID HUNTER. Major General Commanding E. W. Smith, Acting Assistant Adjutant General.
Headquarters, Department of the South, Hilton Head, SC, May 9,1862.

The three States of Georgia, Florida and South Carolina, comprising the Military Department of the South, having deliberately declared themselves no longer under the protection of the United States of America, and having taken up arms against the United States, it becomes a military necessity to declare n die at them under martial law. This was according done on the 25th day of April, 1862. Slave and martial law in a free country are altogether incompatible. The persons in these three states'€"Georgia, South Carolina and Florida'€"heretofore held as slaves, are therefore declared forever freed.
Brian Jennings is the local history librarian and librarian supervisor at the Nyack Library. This article is part of a series extracted from scanned copies of the 1850-1884 Rockland County Journal which include The Civil War and the period in which realist painter Edward Hopper lived in Nyack. They provide us with a snapshot into what life was like in Nyack and Rockland in the late 19th century.
See also:
Progress Of The War, Rockland County Journal, May 24, 1862
John C. Frémont, Wikipedia
Other stories in the 150 Years Ago in Rockland series:
Sympathetic Treason, 5/19/2012
Emancipation, Deportation in 1862, 5/12/2012
The Death of a Volunteer, 5/5/2012
A Nation At War With Itself: Letter To Nyack, 1862, 4/28/2012
Edward Hopper, Rockland Co Journal Go Digital, 3/29/2012