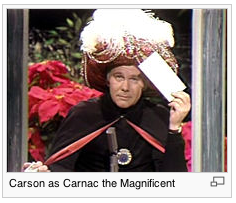 by Dave Zornow
For those of you old enough to remember Johnny Carson and Carnac The Magnificent, this random list might sound like it had been stored in an envelope in a mayonnaise jar under Funk And Wagnalls porch. Twenty years after Carson's last show, lists are now more likely to be found on line than in jars — at sites like the Tri-State Transportation Campaign.
In a weekly list of winners and losers, TSTC sent kudos to former Nyack Mayor Richard Kavesh, current Mayor Jen White and eight out of ten people in Nyack, NY.
Each week, Tri-State lists the region's heroes and villains of transportation and development. Today we present a special installment of our Winners and Losers series: the Tappan Zee Edition. Since New Yorkers found out that the proposed bridge would not include transit, they have come out in full force and demanded a better plan.
Congrats to the former Hizonner and the current Hermayorness. The NyackNewsAndViews reference is to a December survey that said more than 8 out of 10 who live near the Nyacks want some form of mass transit on a new Tappan Zee Bridge.
Which statement best describes your opinion
about building a new Tappan Zee Bridge?
We don't need a new bridge.
5%
I am in favor of Governor Cuomo's plan to build the bridge without mass transit. If trains or buses are needed, we can add them in the future.
6%
The new Tappan Zee Bridge should include some form of mass transit when it is built.
84%
I don't know enough about this to express an opinion.
5%
A strong majority (74%) say that what elected leaders say today will effect how they vote in future elections.
Will the position taken by elected officials on a new Tappan Zee Bridge affect your vote in the next election?
Total
Mass Transit
Supporters
Yes
74%
77%
No
12%
11%
No opinion
14%
11%
Congrats as well to NYS Senator David Carlucci, Rockland County Executive Scott Vanderhoef and Assemblyman Kenneth Zebrowski who also made the TSTC list as a heroes of Tappan Zee Bridge transportation and development.
Sources:
December 22-28, 2011 NyackNewsAndViews survey based on 220 respondents; 73 percent from Nyack or the adjacent river villages with another 18 percent from elsewhere in Rockland County. Although these results are not necessarily representative of the broader population, they are consistent with other online polls conducted over the last several months on this issue.
Carnac The Magnificent, Wikipedia