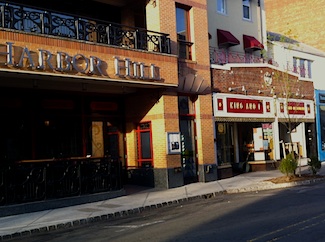 Nyack, April 15 — Phase II of Nyack Streetscape construction takes a pause today for Springfest, the first street fair of 2012. If there's good weather today, up to 25,000 will come to the village to see Nyack's new look downtown.
Last summer sidewalks on Main Street between Broadway and Franklin Street were replaced and additional cross walks were added. 2012 planned improvements include new benches and trash cans, new light poles, red brick crosswalks and the repaving of Main Street.
Earlier this year, adjustments were made to many of the 17 landscaping planters on Main Street to install permeable paver stones to eliminate possible trip hazards as well as improve drainage around tree pits. The village will also be power washing the sidewalks to remove gum and other residue from the surface. "Although the initial vision was beautiful, the actual design and implementation needed to be adjusted," said Nyack Mayor Jen White.
The Main Street-scape included new "bump outs" for crosswalks, which project critics say reduced the number of parking spaces. But planners say there's a method to what some call architectural madness. "It's an important — but subtle — signal to drivers that indicates this is a pedestrian space and that they need to slow down," said Michael Hakim, owner of the Harrington Park, NJ firm that created the design for the Nyack's streetscape. Hakim says that in addition to being safer, the bumpouts benefit businesses, too. "The bump outs reduce the distance pedestrians need to cross the street. They also provide frequent and convenient street crossing opportunities which encourages shoppers to 'bounce' from one side of the street to the other," Hakim said.
Although the bump-outs may have eliminated some parking spots, village officials point out that new spaces in the Riverspace parking lot created by closing the Main Street entrance to that lot makes up the difference.
What's next after the Street Fair crowds go home? More road work begins on Monday April 16 when Orange & Rockland begins work on the installation of a new gas main on South Broadway.
See also: Main Street Streetscape Modification, Nyack-NY.gov