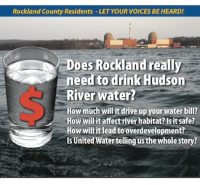 by Peggy Kurtz, George Potanovic, and Laurie Seeman
The Rockland Water Coalition wants to thank the many Rockland elected officials who reached out to the NY Department of State Division of Coastal Resources this last week, in order to secure a longer public comment period for review of United Water's application for the Haverstraw Water Supply Project. We are also writing to ask  Rockland County elected officials to take a stand now on the issue of desalination for Rockland County.
As you know, the public comment period for the Dept. of State Division of Coastal Resources was extended to April 20, to coincide with the close of the DEC public comment period. This decision means that the DOS will get the benefit of all the information submitted to the Department of Environmental Conservation during its review process.
The Department of State now understands both the strength of public sentiment against this proposal and that this application merits much closer scrutiny on scientific and policy grounds. Letters and calls came in to the Division of Coastal Resources from both elected officials and from Rockland residents. A delegation of environmentalists opposed to this project representing Riverkeeper, Scenic Hudson, Clearwater, Pace Environmental Law Center, Atlantic Chapter of Sierra Club, and local groups, went to Albany ten days ago to meet with the Department of State to discuss the reasons for their opposition to this project. This desalination plant would move the county irreversibly counter to the intent of state policy as delineated in the Smart Growth Infrastructure Act, setting an unfortunate precedent for the Hudson Valley, with larger implications for state water and land use policy.
April 20 is now the critical deadline for public comment on this project, both for DEC and DOS. We are asking you to follow up as soon as possible with full comments on this project to both agencies, with a copy to Governor Cuomo.
Your constituents are looking for you to take a clear stand on this issue. They are speaking out loud and clear in opposition to this project: Overflow crowds had to be turned away from the only public hearing, with hundreds of people packing the hearing room. Last week more than 17,600 letters and signatures on petitions from Rockland residents were delivered to the Department of State '€" and momentum is building, with more petitions continuing to come in every day, signed online on our website, and delivered by mail.
Your constituents understand that they will be saddled with the construction costs for this plant; the project costs have nearly doubled in four years. They also understand that this plant will lead to unchecked development, altering forever the character of this community. You don't need a poll to know that Rockland residents are absolutely opposed to a plan to draw our drinking water 3.5 miles downstream from a leaking nuclear power plant. They also understand that desalination should be an option of last resort in a water rich area '€" and that sustainable water policy has not been fully explored.
With less than three weeks remaining to the end of the public comment period, your constituents want to know: where do you stand on this issue, which has been before us for four and a half years?
We hope you will take all necessary actions to ensure that the DOS and DEC know your position, and that you make it clear to your constituents as well. The Rockland Water Coalition will be posting online the positions of our elected officials.
Let us know where you stand. Rockland residents are looking for your leadership in opposition to this project in this critical period.
Peggy Kurtz, George Potanovic, and Laurie Seeman are members of the Rockland Water Coalition. Other members include:
Hudson River Fisherman's Association
Hudson River Sloop Clearwater
Preserve Ramapo Rockland AARP
Riverkeeper
Rockland Sierra Club
Rockland Residents Against Flooding Tomorrow (Rockland RAFT)
SPACE – Stony Point Action Committee for the Environment
Sparkill Creek Watershed Alliance
Strawtown Studio