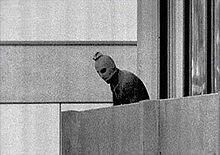 This summer, the Rockland JCC hosts the 2012 Maccabi Games, an international competition for Jewish athletes similar to the Olympics. This September marks the 40th anniversary of the Munich Massacre, where 11 members of the 1972 Israeli Olympic Wrestling Team were murdered by Palestinian terrorists. For 40 years the families of slain athletes have appealed to the International Olympic Committee to grant a minute of silence as an observation of that tragic day — but the the IOC has refused.
As part of its organizing  efforts for the 2012 Maccabi Games, JCC Rockland joined with Ankie Spitzer, widow of fencing Coach Andrei Spitzer, and other families to spearhead an online petition at Change.org to ask for a minute of silence at this year's London Olympics and future  events. Over 19,000 people from around the world have signed the petition since the initiative was launched on April 13.
"I am asking for one minute of silence for the memory of the eleven Israeli athletes, coaches and referees murdered at the 1972 summer Olympics in Munich," said Spitzer in a YouTube video which accompanies the petition. "Just one minute '€" at the 2012 London Summer Olympics and at every Olympic Game, to promote peace."
'€œIt is amazing to witness the worldwide support we have achieved, there are signatures from dozens of countries and all over the United States, said David Kirschtel, CEO, JCC Rockland. '€œOur Maccabi Games this summer are in honor of the memory of these men.'€
'€œMy husband and the other athletes went to the Olympics in peace, friendship and sportsmanship and should be given the honor they deserve,'€ said Spitzer. '€œOne minute of silence will clearly say to the world that what happened in 1972 can never happen again," she said.
Catholic University Adjunct Professor Leszek J. Sibilski had suggested a similar petition effort to his '€œSociology of Sports'€ class about the same time as the JCC launched their petition. Sibilski, a former member of the Polish National Olympic cycling team, said his class wrote to IOC President Jacques Rogge on behalf of a younger generation who didn't witness these events but still feel connected to them. '€œAs students who did not live through the Munich massacre, one may question our knowledge about the tragedy, and why it is important to us. We lived through the terrorist attacks on September 11, 2001. We mourn these civilians'€¦'€¦we are the September 11th generation'€¦..we do understand and believe passionately that a minute of silence to honor these men is the right thing to do period.'€
Spitzer told Reuters last month that the IOC  did not want to annoy Arab countries by mentioning the tragedy at the opening ceremony. "They say we bring politics into the Olympics, which is not true, because I didn't ask them to say that there were 11 Israelis," she said. "They tell us that the Arab delegations will get up and leave, to which I said: it's okay, if they don't understand what the Olympics are all about, let them leave."
Sources: Change.org, Munich11.org, Reuters.com, Wikipedia.org
Photo Source: Wikipedia. Video Source: YouTube