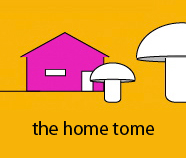 by Jocelyn Jane Cox
I love my town. Nyack has great restaurants, lots of nice shops, a view of the Hudson River, and scads of beautiful hiking trails surrounding it. All this, and it's a short drive into New York City.
But like many towns across the U.S. right now, it currently has a handful of empty storefronts waiting for new retailers. Over the last few years, as I have watched businesses open and others close, I have been harboring fantasies of throwing my own hat into the retail ring. My husband and I have even called to ask about a few of the empty spaces. The truth is that I have often imagined myself owning what I call a '€œhousey boutique,'€ offering modern home decor and all kinds of cute miscellany that nobody really needs. The other truth is that I don't know the first thing about running a store.
When we called about one space, the realtor on the other end offered a suggestion. '€œTry to open something that has a lot of value to the locals, as opposed to catering to people just passing through,'€ they said. Wise words. I have been brainstorming on this for a while now and I'm ready to get feedback on some of my unique and extremely useful ideas'€¦
Umbrella!: A boutique featuring all umbrellas all the time! You may say, Jocelyn, '€œWouldn't that be a better store to open in a rain-ier place like Seattle or London?'€ And I say, maybe, but people are freaked out about the sun, too, and tired of slathering on all that sunscreen '€" I'm ready to bring parasols back. Umbrellas also protect you nicely from snowflakes. So as I see it, these can be used every day of the year. Of course, we would also sell drink umbrellas, umbrella hats, umbrellas for strollers, and a line of umbrellas for pets (hey, they wear slippers and sunglasses don't they?)
The Nail Salon: I'm not talking decorative fingertips. I'm talking infrastructure '€" nails with which you build things, in other words, the very foundation of our community. I am prepared to re-invent the nail as you formerly knew it. Much as I love round things, that old standard shape is getting pretty tired in carpentry and construction circles (pun intended). How about some squares? Some hearts? Wouldn't you be more motivated to hang your pictures/build a barn/fix your porch if your nail heads were shaped like poodles? I thought so.
Top Heavy, A Cupcake Emporium: I've heard that cupcake shops have a very high success rate these days. At the same time, however, everyone's on a diet, so I want to offer you just half of a cupcake, the better half, the one with all the icing. Introducing'€¦the cupcake top, cousin of the muffin top (as legitimized, of course, by Seinfeld.)
Gnome-tastic: I've noticed that lots of people around here have garden gnomes, but where are we supposed to buy our accessories? I'll carry gnome houses, gnome grooming kits, gardening tools for gnomes (so they can make themselves even more useful.) And because I'm a big fan of literacy, we'll offer books about gnomes (written by yours truly) and books for gnomes (written by my gnome, as soon as I get his laptop set up). Just like they do at the American Girl Doll store in Manhattan, you can bring your gnome into our salon and he can get a new hair-do (or beard-do, his choice)! Or better yet, does your gnome want a tattoo of a flamingo on his arm? Now you'll know where to bring him.
Succulent: Does this store tantalize you with its sexy name? That is the intention – surely you'll be dying to find out what's behind our darkened windows, strategically covered to create intrigue. Once inside, you will find'€¦(suspense)'€¦succulent plants of all shapes and sizes. Aloe, hens-and-chicks, jade, agave. You name it. We went to this incredible store called Cactus Jungle in San Francisco a few years ago and there were so many cool succulents that I had a'€¦ plant-gasm. Unfortunately, I've never been able to keep many succulents alive, (and the darkened windows might not help on that front) but if these sexy plants fly off the shelves as quickly as I expect, the customers can take care of that in the privacy of their own homes'€¦
So these are my ideas. Maybe I should just rent a few spaces and try all of these winning concepts. Obviously, these ideas could succeed anywhere '€" please contact me for franchising information.
In all seriousness, here are some of my favorite shops in Nyack that are doing it right. (Maybe it's best if I just keep visiting their stores instead of trying to open my own):
Maria Luisa Boutique
ML Gifts and Accessories
Saffron Trading Company
Sanctuary
Gena Lisa
If you've never been to Nyack or haven't been in a while, come visit!
Jocelyn Jane Cox is a local freelance writer who writes TheHomeTome.com, a home and humor blog with a Nyack slant.