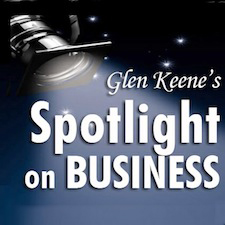 by Glen Keene, JD, CPC
Lawyer and professional coach Glen Keene gives practical tips to businesses about improving customer and employee relationships and expanding their customer base. 
Does asking for help make you break out in a sweat? Are you nervous in group settings and find it difficult to communicate? Do you shake at the thought of approaching someone to ask them a question? Are you too shy to ask someone directly for help?
In last week's column we discussed the concept of mentors. Approaching someone to ask for their advice or help, such as finding a mentor, isn't difficult process for most people. But, for those who may have issues with directly asking for assistance, there is a less traumatic way to follow a leader. You don't have to necessarily make direct contact with your ideal business owner or professional. Modeling your behavior after someone else's is another time tested way to achieve success in whatever it is you want to do.
As with many of the processes or tools used by executive and other coaches the term comes from the behavioral sciences. It is often used in child psychology in the context of parenting. The idea here is the same. The context is, however, not. Modeling, as we use it here, is a companion to the idea of having a mentor.
Modeling is a very simple and effective process, and, does not necessarily involve walking down a runway. Modeling, as used here, refers to imitating, copying, reproducing or following the behavior patterns and actions of another. It means finding a person or company that you want to emulate, that is now doing the right way what you want to do. Modeling means focusing on the skills and/or behavior the other person or company does well and finding a way to replicate it for you by studying their strategies and methods. Research that person or company and find out how they succeeded.
The first step is to decide who it is you want to be like. Find someone you admire, someone who has the skills or behavior that you want. Look at how they act, what they do and who they interact with. Observe what works for them and what doesn't.
Find someone who does it better than you or does it the way you want to do it and do what they do. Look for patterns in their actions and copy those patterns. By replicating the patterns of someone else's success you can dramatically improve the odds of your own success.
The research starts by asking yourself what questions you would want to ask them then research the answers. Clarify what it is you are looking for. Write the questions down. Review and refine them. The more clarity you have the easier it will be to answer the questions. Some of those questions could be what goals did they or their company make and how did they accomplish them, what path did they take, who did they emulate and copy. If you find that your prototype followed someone else then do research on them as well.
It's easier to do the research if the object of your search is well known or has a lot of material for you to look into. The more information you have to work with the better you will understand that person or company.
A good example of what I mean is my own attempt to emulate the interviewer and broadcast journalist Charlie Rose on my show Spotlight on Success. I've tried to adopt his calm, relaxed demeanor and his conversationalist style. I've never personally met Mr. Rose but, I have seen his program many times. I watch to see how he treats his guests, asks his questions and guides the conversation. He, like me, is not prone to sensationalism or hyperbole. We seem to share many personality traits, which may well explain why I chose to follow Mr. Rose's lead. I've modeled my own interview process after his example.
You can do the same. You don't have to personally know the person or the particular company. You just need to know of them and how to observe them. Once you've made your choice and done your research the next step is to put what you've learned into an action plan. Then put your plan into action. Success comes only when you take the steps necessary to achieve it.
Glen is an attorney, certified professional coach and host of '€˜Spotlight on Success' streamed live every Wednesday at 6:30p from RocklandWorldRadio.com. Glen's guest on April 25 is Tom Kelley, Life Leaders Forum Facilitator and Change Agent.

Email glen@attorneykeene.com, visit GlenKeene.com or call 845-548-1769 with questions about Glen's column, his program or his practice.

This article is for information purposes only. No legal advice is intended nor may it be assumed or implied.