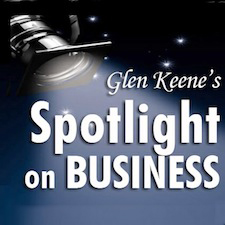 by Glen Keene, JD, CPC
Business owners are always searching for ways to improve their personal performance, enhance employee involvement, perfect customer relations and increase their customer base. Each week, lawyer and professional coach Glen Keene will provide practical tips to inform, educate, inspire and empower business owners in their 9 to 5 life with advice which is often applicable to our lives outside of work, too.
How do business owners and professionals find potential customers, clients, and strategic partners? Where are the best places to find people who you want to do business with or who may want to do business with you? What can new and existing businesses do to generate buzz, awareness and/or interest in their product or service? How can you exponentially expand your sales force even if you currently do not have a sales force? Where can you find new leads?
Building a new business is never easy. In the current economic environment it is often difficult enough to sustain an ongoing enterprise. But, even in the worst of economic conditions there are ways to enhance the bottom line. There are several actions you can take to widen your customer or client base. One way is to advertise. Another is to sit by the door and hope that someone comes in. One can be expensive and not cost effective. The other is just no way to get business.
A simple and relatively cost effective way to build your business is by word of mouth. When people tell others about you and your service or product, what they say can be a powerful endorsement. And, others will listen. Word of mouth marketing has generated substantial amounts of business. It may very well be the primary means by which most products or services are sold.
But, building your business with word of mouth marketing can take a long time. Networking is one way to speed up the process and realize your goals sooner. It can be effective and enjoyable.
Networking simply means getting yourself in front of like-minded people who are looking for the same things you are; new clients and customers, new business opportunities and strategic partners. Consider joining trade associations, local business organizations, and specific networking groups. These are all ways you can create new leads, get new customers or clients in the door and make people aware of what you have to offer.
Networking relies upon a very simple concept: people prefer to do business with someone they know, like and trust. If others know, like and trust you they will be more willing to recommend others to you. By joining one or more (the more the merrier) of these organizations you will grow your network exponentially through the word of mouth of your '€˜sales team.' That team consists of every member of the group as well as their network of family, colleagues, friends, business associates, customers, clients and anyone else they know.
Where do you find networking groups? They are everywhere. There are one's that specifically call themselves a '€˜networking' organization. They have it in the name. But, others that may not seem obvious include the local chamber of commerce or other business associations like the Rockland Business Association, an alumni association, local philanthropic organizations such as Rotary or Lions clubs, and other community organizations. They offer an opportunity to get to know people and for them to get to know you.
My wife is an attorney here in Rockland County. She is a founding member of a local chapter of a well-known networking organization. The chapter, which started from just a handful of people, has grown to more than three dozen. Many of the founding members continue to belong to the chapter. My wife's practice grew so fast and large that she found it difficult to squeeze in the meetings. She still represents many of the clients referred to her by members of the chapter even though it is several years later. She attributes much of her success to her membership in the group.
Another benefit is the friendships that can develop from membership. My wife and I became fast friends with another member of her chapter and his spouse. We go to dinner, travel and celebrate holidays together. The relationships you develop can last a lifetime.
If you decide to join a group or groups make sure you attend the meetings and/or functions, take advantage of opportunities to refer new clients/customers to other members and, by all means, participate in whatever leadership roles are available. By getting involved you will not only build the trust factor it will help you develop or enhance your leadership skills. Networking works if you work the network.
 Glen is an attorney, certified professional coach and host of '€˜Spotlight on Success' streamed live every Wednesday at 6:30p from RocklandWorldRadio.com. Glen's guest on April 11 is Lexington Avenue Capital Financial Adviser Larry Luxenberg, a 2012 Leadership Rockland graduate and also an avid '€˜networker.'

Email glen@attorneykeene.com, visit GlenKeene.com or call 845-548-1769 with questions about Glen's column, his program or his practice.

This article is for information purposes only. No legal advice is intended nor may it be assumed or implied.