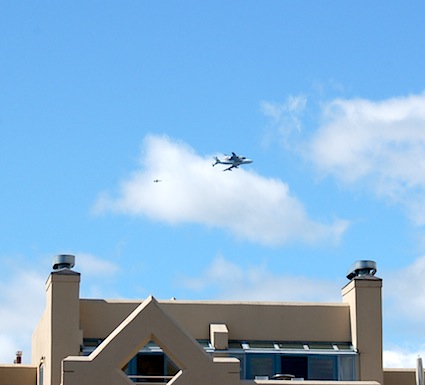 Nyack, April 27 — The Space Shuttle Enterprise will fly over Nyack on Fri 4/27 between 10:30 and 11:30 as it makes a U-Turn above the Tappan Zee Bridge on its way to its final landing at JFK Airport. Mated to the back of a Boeing 747, Enterprise's low-altitude flyover is the last leg of a trip that will place the prototype space shuttle on the deck of the Intrepid Sea, Air and Space Museum in Manhattan this summer.
NYCAviation.com describes the shuttle's flight plan:
As it first approaches the area, the Shuttle Carrier Aircraft (SCA) flies up the Hudson River past the west side of Manhattan at 1,500 feet, and then climbs to 3,000 after it passes the George Washington Bridge.
SCA will then make a left-handed U-turn when it reaches the Tappan Zee Bridge to fly down the Hudson, descending back to 1,500 ft when it reaches the Alpine radio tower near the New York/New Jersey border.
SCA continues past Manhattan down to the Verrazano Narrows Bridge.
Once it passes south of the Verrazano, the next part of SCA's itinerary depends on which runways are in use at Newark Airport.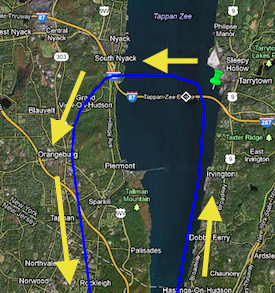 WeatherUnderground.com is predicting 10% chance of rain at the time of the flyover with 26% cloud cover. If you step out to watch, bring your windbreaker — the forecast calls for temperature in the low 50's and a 22 mph wind from the NW.
The flight from Dulles to NYC will be canceled if the aviation ceiling is lower than 3,000 ft, there is flight visibility less than five miles or crosswinds greater than 20 knots — or about 23 mph.
The Enterprise was the first shuttle constructed in 1976 — but it never actually flew in space. It was constructed without engines or a heat shields to test the shuttle's aerodynamic and landing capabilities. Originally intended to be named Constitution, it was rechristened Enterprise in response to a letter writing campaign from Star Trek fans.
Sources:
Photo: Space Shuttle Enterprise in Nyack Flyover 11:20a 4/27/2012 near Claremont Apts on the Hudson