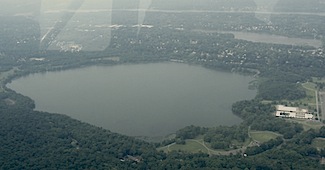 by Cliff Weathers, NYaltnews.com
United Water is looking for a green light from New York State to build a desalination plant in Haverstraw to avert future water shortages despite advocates' claims that the utility used tainted data which included 2007 illegal releases downstream to make their case. UW's claims are in contrast to a new report from the NRDC which gives the Empire State high marks for "water readiness."
The National Resources Defense Council says New York is one of the few states to have made significant progress in addressing climate change and its possible effect on water supplies.
Also ranked high in preparedness by the the NRDC were Washington, California, Maryland and Massachusetts. Alaska, Oregon, Pennsylvania and Wisconsin, although some of those states have not made much progress in recent years. States that have done the least, according to the report, are Alabama, Arkansas, Indiana, Iowa, Kansas, Missouri, Montana, North Dakota, Ohio, South Dakota, Texas, Utah.
This was the first time that all 50 states were ranked for their readiness, or lack thereof, in planning for the water-related threats of climate change by the NRDC. The environmental organization's analysis closely examined states that have been found to be very engaged in preparedness planning or woefully unprepared in the face of growing water-related climate change impacts, including threats to water supply and quality, and more frequent and severe storms, floods, and drought events.
The new report includes an interactive online map that highlights unique water vulnerabilities each state faces and what each state is doing, or not doing, to prepare. It also outlines a suite of state-specific policies each state needs to take to prepare for threats to communities and their water resources.
Relative to other states, New York has little to worry about. The state is uniquely rich with water resources and the overall risk of drought is low year-to-year. However, New York has suffered from significant droughts in the past, notably in the mid-1960s, and again in the early and mid-1980s.
The New York State Department of Environmental Conservation divides New York into nine drought management regions and monitors precipitation, lake and reservoir levels, stream flow, and groundwater levels in each region. The DEC uses these results to assess each region's conditions, which can range from '€œnormal'€ to '€œdrought disaster.'€ Currently, conditions are still '€œnormal'€ across the state. Along with the New York DEC, the United States Geological Survey keeps close tabs on our state's water resources, including daily stream flow calculations.
Despite the glowing endorsement from the NRDC, a scientist from Columbia University's Lamont-Doherty Earth Observatory says New York City might not be ready for it. Neil Pederson told the State of the Planet blog in 2010 that even with an overall decline in water use, recent local water emergencies show that '€œmaybe the system is not in tune with the climate'€ and that New York City '€œis not prepared for the next significant drought.'€
Cliff Weathers publishes NYaltnews.com, where this article originally appeared.
See also:
Photo: Lake DeForest (upper) and Rockland Lake (lower). Aerial photo June 2008.