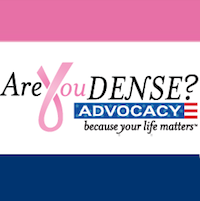 by JoAnn Pushkin
Seven years ago I learned two things:  I had breast cancer and  I have dense breast tissue. Tragically, I learned them both on the same day.  The reality is that I, along with 40% of women going for mammograms, have dense breast tissue, which dramatically compromises the effectiveness of a mammogram and also puts us at greater risk for developing breast cancer.  I am not alone, according to a recent Harris Poll, an astounding 95% of women are uninformed about their own breast density.
Breast density refers to the composition of breast tissue. The breast is composed of fatty and "dense" tissue. Dense tissue shows up white on a mammogram; unfortunately so does cancer.  A cancer lurking behind dense tissue is often undetectable by mammogram.  Your breast density is noted during your mammogram and shared with your referring physician but it is not routinely shared with you.
Despite a healthy lifestyle, diet and never-missed annual mammogram exams, one day I felt a lump during a self-exam. Though large enough to feel, the lump did not show up on the mammogram I underwent that day.
Why, you may ask '€" as I did that day? '€œOh'€, said the tech, '€œbecause you have dense breast tissue. That's a very hard find for us.'€  When I found my voice again, my stunned response was, '€œWait. What?'€
Unfortunately I have learned through bitter experience that my post mammography letter stated, '€˜Normal/negative: No evidence of cancer', not because cancer wasn't there, and not because my radiologist knew with any reasonable certainty that cancer wasn't lurking behind dense tissue.  It said '€˜normal/negative'€ because he simply couldn't see anything through the dense tissue.
After being diagnosed it was estimated the tumor was growing undetected by mammography for about five years.   And yet, the letter I received with my mammogram results each of those years, simply stated,   '€œnormal /negative, no evidence of cancer'€.  Not one word about '€˜breast density' or that, due to density, the mammogram results might be compromised.  And, tragically, not one word about another screening tool that might have  detected my cancer at an earlier stage sparing me the horror of  seven surgeries, eight rounds of chemo, 30 rounds of radiation – and the rest of my life lived as a time bomb.
The reality is that scientific research has outlined that women with dense breasts are between four and six times more likely to get breast cancer and it will be caught only about 50% of the time by mammogram.  A life threatening double whammy.  And yet currently, there is no standardized protocol for informing women about their own breast density and associated risks.
"Women have an absolute right to all  information available about themselves so they can make informed decisions." — JoAnn Pushkin, Executive Director of Are You Dense Advocacy, Inc
The good news is that recent studies out of Connecticut, the first of only three states with a Breast Density Inform law enacted, indicate that for dense breasted women, the addition of an ultrasound after a mammogram nearly doubles the number of cancers found by mammogram alone.  These are cancers now detected by ultrasound '€œmissed" via mammogram.
Connecticut's data, applied to the population of New York State, indicates that there could be over 2,000 women, each year, who are told their mammogram results are '€˜normal/negative', but who, in fact, have life threatening invasive breast cancer. These cancers, missed year after year by mammogram, will generally not be found until large enough to be felt  – when no longer early stage, when least survivable and most costly to treat.
Thankfully in New York, Breast Density Inform legislation (S6769/A9586) is being considered which would provide for patient notification of her own breast density and insurance coverage for additional screening if her doctor feels appropriate.
This legislation is sponsored by Senator John Flanagan and Assemblywoman Ellen Jaffee who joined forces from both sides of the aisle to support this critical piece of life saving legislation. Along with a Congressional bill, New York is one of 15 states working on legislation this session. New York's bill is headed to the Assembly Insurance Committee.
This is the year we need to get this change passed in New York and in our nation. We are moms, wives, grandmothers, sisters and daughters – and these are preventable tragedies. The women of New York and the men who love them need to demand that information about a woman's breast density be included in the letter she receives after her mammogram.  Without this vital information, the letter is a lie by omission.
JoAnn Pushkin, Executive Director of Are You Dense Advocacy, Inc,  first learned of her own breast density on the same day she was diagnosed with breast cancer.  Both the New York State and Federal Breast Density Inform legislation were drafted at her request.  Pushkin received the 2011 NYS Senate Woman of Distinction Award for her advocacy work on this subject. She is now a full time unpaid advocate supporting Breast Density Inform legislation around the country.