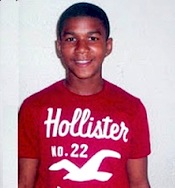 by Bill Batson
I have been shocked by the facts and saddened by the rumors that have emerged surrounding the shooting death of Trayvon Martin by George Zimmerman in Florida on February 26.  With serious public policy issues at play, from race to the second amendment, I find myself pining for a media that would inform and a legal process that would illuminate.
Into this morass has plunged two cable news channels that give polar opposite points of view on everything and a third that splits the difference by offering both screaming heads at once.  What follows is more of a CSPAN approach, a timeline of the events to date.
Feb 26: Trayvon Martin was with his father watching the NBA All-Star game in the home of a family friend.  The family friend, identified as the Trayvon's father's girlfriend, lived in a gated community in Sanford, Florida. Martin left the gated community to purchase a pack of Skittles and an Arizona Iced Tea.  When he returned, Martin was followed by a 28-year old resident of the community, George Zimmerman.
Zimmerman, a self-appointed neighborhood watch captain, was carrying a concealed weapon.  Seeing the young male walking in the community, dressed in a hooded sweatshirt, pants and sneakers, Zimmerman called 911 and told the dispatcher he was following someone suspicious who he described as a black teenager.  Zimmerman also told the dispatcher that Martin may have been on drugs.
Recordings from several 911 calls, including a call made by the shooter, show that Zimmerman was advised by the 911 dispatcher not to continue his pursuit of Trayvon Martin.
Martin was on his cell phone with his 16-year-old girlfriend just minutes before he was killed. She reports that Martin said he was scared because a stranger was following him.  She reported hearing an exchange between Martin and another male before Martin's phone went dead.
When police arrive at the crime scene, Zimmerman claims he killed Martin in self-defense.  Zimmerman was not arrested and was allowed to leave police custody with the murder weapon.
Immediately following Martin's death:
Drug tests were conducted on the remains of Trayvon Martin.  Zimmerman was not subjected to such tests.
Martin's family was not notified for three days until his father filed a missing person's report. During that time, Martin's body was tagged a "John Doe" in the morgue.  The fact that Martin had a cell phone in his possession did not lead to his timely identification.
The lead homicide investigator Chris Serino wanted to arrest and charge Zimmerman with manslaughter, but was overruled by Florida state prosecutor Norman Wolfinger. The failure to arrest Zimmerman is blamed on a relatively new law known as "Stand Your Ground." The law was written to protect individuals who believe their life has been threatened. The law was intended to cover victims of domestic violence and individuals who felt they were threatened in their homes or their cars.
Since the passage of Stand Your Groundlaws in several other states, the number of justifiable homicides have tripled.If the evidence that points to Zimmerman as the aggressor is corroborated, the law would not cover his actions. Supporters of the law, including former Florida Governor Jeb Bush, don't believe that Stand Your Ground applies to the Trayvon Martin case.
March 9: Trayvon Martin's family calls for the release of the 911 tapes. The recordings show that Zimmerman was directed by the dispatcher to stop following Martin. In one exchange, Zimmerman is heard using what some believe to be a racial slur.
March 18: The Martin family asks the US Justice Department to intervene.
March 22: The Sanford, FL City Commissioners passes a vote of  "no confidence" in Chief of Police Bill Lee. On the same day, a special task force is created in Florida and the Martin family meet with the Department of Justice. Lee temporarily steps down.
March 23: Over 1.5 million people sign a petition calling for the arrest of George Zimmerman.
March 28: Zimmerman's claim that he had scuffled with Martin and had been injured is brought into question by police surveillance where Zimmerman does not appear to have any physical injuries.
April 1: Audio engineer Ed Primeau, an expert in recorded evidence, tells the Orlando Sentinel that he is 95% sure that the voice on the 911 tape heard calling for help is not George Zimmerman.
April 3: The Los Angeles Times reports an enhanced version of the surveillance video released by Sanford Police Department appears to show Zimmerman with a possible head wound.  A lower resolution version of the tape seemed to discount Zimmerman's claim of being injured.
See also: