by Bill Batson
There's a little bit of Lucca, Italy in Nyack's Lanterna Tuscan Bistro. And according to chef and owner Rossano Giannini, Nyack visitors to his home town of Lucca will feel right at home in the renaissance era walled city and tourist destination where villagers frequently stop and chat with neighbors or spend hours in cafes. In Lucca, the capital of the region where Rossano grew up, neighbors meet in piazzas every evening for conversation and mingle every weekend at the pedestrian promenade on the top of the ancient wall that rings the city.
Rossano recently had a home-coming vacation returning to his roots in Tuscany for the first time in 17 years. The trip with his wife and son included a stop in his ancestral village of Sesto Moriano near Lucca and memorable meals at Buca di Sant Antonio and Ristorante Giglio.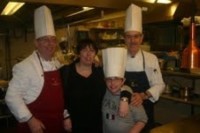 Cooking has been Rossano Giannini's passport to the world.  Giannini has worked as a chef in Germany, Pakistan and Egypt.  The only son of a local government administrator and housewife was raised in Sesto Moriano, in the Serchio Valley of Northern Italy, Rossano began cooking at age 16 when he and his best friend enrolled at the Culinary Institute F. Martini in Montecantini Terme. Rossano arrived in New York City in 1995 where he quickly put his culinary skills to work.
Rossano met his wife Maureen, an oncology nurse, while working at Torre Di Pisa in Manhattan. In 1999 they decided to open a restaurant in Nyack after a weekend day trip to the Hudson Valley village.  Craving more time with his family, Rossano hoped that working and living in a village that reminded him of his hometown in Tuscany would give him both flexibility and culinary freedom.  He was only half right.  The demands of creating a menu, hiring and training kitchen staff, hosting the front of the house and ordering the food keeps him busy around the clock.
Rossano's cooking style can be described as Cucina Povera or Poor Lucchesi.  When he was younger he would look for where the truck drivers ate to find the best food at the most reasonable price.  The ingredients in poor lucchesi cooking are sustenance foods; vegetables from back yard gardens, locally caught fish and wild game.
During his recent trip home, Rossano and Maureen brought their son Patrick to Italy for the first time.  Rossano's cousin Grazia prepared a typical Poor Lucchesi meal to celebrate the occasion.   Cousin Grazia's husband hunted a wild boar in the neighboring mountains the day before the feast.  The boar was prepared in a stew with olives, carrots, onions and garlic from Grazia's garden.
Wild Boar is served at Lanterna, but it's a special, so call ahead to see find out when it will be on the menu.   Rossano can't give you Grazia's recipe, because she won't even let him in the kitchen when she cooks.  But in honor of his cousin, Rossano has created this recipe, minus the boar, based on what she served that evening as a first course.
Risotto con Zucca alla Grazia
Ingredients

1 butternut squash (2 pounds)
2 tablespoons olive oil
Kosher salt and freshly ground black pepper
6 cups vegetables stock, preferably homemade
6 tablespoons (3/4 stick) unsalted butter1/2 cup minced shallots (2 large)
1 1/2 cups Arborio rice (10 ounces)
1/2 cup dry white wine
1 cup freshly grated Parmesan cheese

Directions

Preheat the oven to 400 degrees.
Peel the butternut squash, remove the seeds, and cut it into 3/4-inch cubes. You should have about 6 cups.
Place the squash on a sheet pan and toss it with the olive oil, 1 teaspoon salt, and 1/2 teaspoon pepper. Roast for 25 to 30 minutes, tossing once, until very tender. Set aside.
Meanwhile, heat the vegetables stock in a small covered saucepan. Leave it on low heat to simmer.
In a heavy-bottomed pot or Dutch oven, melt the butter and sauté and shallots on medium-low heat for 10 minutes, until the shallots are translucent but not browned.
Add the rice and stir to coat the grains with butter. Add the wine and cook for 2 minutes.
Add 2 full ladles of stock to the rice, 1 teaspoon salt, and 1/2 teaspoon pepper.
Stir, and simmer until the stock is absorbed, 5 to 10 minutes. Continue to add the stock, 2 ladles at a time, stirring every few minutes.
Each time, cook until the mixture seems a little dry, then add more stock.
Continue until the rice is cooked through, but still al dente, about 30 minutes total.
Off the heat, add the roasted squash cubes and Parmesan cheese.
Mix well and serve.
Photos courtesy of Rossano Giannini