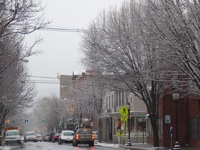 by Ellen Hilburg
Almost every day for the past 20 years, Nadia Kostik has been a  familiar sight as one of the '€œwalkers'€ doing their daily constitutional from South Broadway towards Hook Mountain in Upper Nyack and back. Nadia's small stature and chatty personality made her a welcome sight and friend to many local residents along the way. And her walks helped her keep keep physically fit and younger than her actual age.
But as of late, Nadia has gone missing. She hasn't been seen on taking her regular walks on Broadway for many months. And many of her friends have asked, "where's Nadia?"
Although no longer in Nyack, Nadia is doing well at St. Joseph's Adult Care Home in Sloatsburg.  She's happy in her new home and is receiving the support that she needs. For more information or to contact Nadia, call St. Joseph's at 845-753-2553. Thank you all for your concerned thoughts and questions.