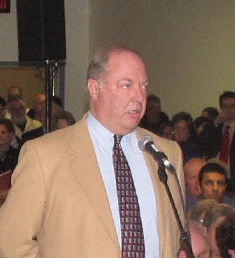 by Scott Vanderhoef
Rockland County Executive C. Scott Vanderhoef addressed Tappan Zee Bridge planners from the NYS Dept of Transportation at Tuesday's Draft Environmental Impact Statement public hearing.
Thank you for the opportunity to provide comments on the Tappan Zee Hudson River Crossing Project. This Hudson River crossing is a critical link for Rockland County and the region as well as for interstate commerce. We need a safe, reliable new bridge, as well as the jobs and economic stimulus the project will bring to Rockland.
Since the announcement that this project had been fast-tracked, we have been working diligently to ensure Rockland County's voice has been heard in this process. I appreciate the time that Commissioner McDonald has dedicated on numerous occasions since October to meet with me to discuss our short- and long-term transit needs for the bridge, and I look forward to our continued discussions on this mutual effort.
We support mass transit and look forward to future BRT, and hopefully commuter rail, in the corridor and across the bridge. We ask that the project include in its design the critical components for the immediate and future transit projects that need to be implemented. We are aware that the project is not precluding future commuter rail. Looking ahead, we also need to ensure that the bridge design and construction does not preclude a future dedicated Bus/HOV lane on the bridge and a bus access ramp/connector from the bridge to the Tarrytown Rail Station:
Rockland is not opposed to having our buses share an HOV/HOT lane in the near-term. However, a dedicated busway in the future will be required to better accommodate Bus Rapid Transit (BRT). We know there will be space on the new bridge to accomplish this in the future. How that space is configured would be a future decision, but one that must be considered as the bridge is designed and built.
A larger project, but also vital to the effective operation of bus or BRT service, is a bus access ramp/connector from the bridge to the Tarrytown Rail Station. As we all know, this was originally planned in the Alternatives Analysis in the previous corridor study to provide direct access from the Tarrytown tolls to the Rail Station. This need not be a project on the scale previously proposed, but could instead be a simple cloverleaf off-ramp from the right lane going under the bridge along the rail tracks. Another example is a flyover such as the one NYSDOT recently completed at Short Clove Road in Haverstraw. And that project was accomplished in three years for $35 million. We are asking that NYSDOT and MTA take the lead on getting a NEPA process underway for this project even while the bridge is being designed and constructed.
As I have discussed with the Commissioner, we must also determine how our existing bus service can be immediately accommodated on the new bridge in a meaningful manner. Congestion in the I-287 Corridor is already preventing the County's TAPPAN ZEExpress (TZx) bus service from functioning at its optimal level of efficiency. Today, on the existing bridge, the State- and Federally-funded TZx service lacks priority access from the Palisades Center Park & Ride to Tarrytown Rail Station. We have no dedicated bus lanes and no way to get from the bridge to Tarrytown Station without traveling in Route 9 traffic. If a new bridge is constructed without a means to speed and improve the TZx service, we will be unable to offer Metro-North commuters a reliable connection to Tarrytown Station, and we will be unable to provide a reasonable commute to White Plains. In the future, these needs will become even more critical.
So why not plan now for our TZx buses by using the emergency access lanes on the new bridge as bus lanes, and by connecting the emergency lanes to the travel lanes at the landings? It's feasible and it makes sense, and will at least give us one immediate way to get people out of cars and to move people faster.
Ridership on TZx increased more than 82% between 2000 and 2011, but ridership growth has slowed as traffic has grown. Between 2000 and 2008, ridership grew nearly 8% per year on average, but in the years since has grown only about 1% each year. Without dedicated transit access on the new bridge and a connector from the bridge to Tarrytown station, the service cannot significantly increase.
Reliable transit is vital if we hope to reduce travel times and congestion while improving air quality in the region, and transit will become even more vital during the bridge construction. I look forward to working with NYSDOT, the Thruway Authority, Federal Highway Administration and our other regional partners to coordinate a Construction Mitigation Transit Plan. Beefing up our TZx service will be a vital part of that plan, and Rockland County is calling upon the State for interim funding to accomplish this. We are also calling for a portion of the bridge's toll revenue to be set aside to fund transit service in the corridor.
Speaking of tolls, we must ensure that the cost of this project does not rest on the backs of Rockland County residents who use the bridge. Therefore, we are asking that Rockland County residents with E-ZPass® be afforded a discounted toll rate, as is done with other crossings across the State. In addition, we are asking for tolls to be eliminated for County-owned transit buses at Tarrytown and Spring Valley.
In the coming weeks my staff will be providing detailed comments on the DEIS. That said, I would like to briefly commend the DEIS for its inclusion of high performance standards and diesel emission mitigation requirements for both landside construction vehicles and for the tugboats that will constantly traverse our shoreline during construction. We are also pleased to know that there will be a NYSDOT construction manager who will interact with and oversee the contractors to ensure these standards are met.
C. Scott Vanderhoef is County Executive for Rockland County, NY.
See also: