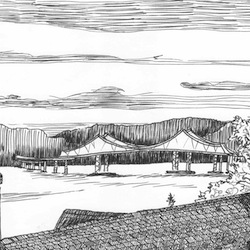 Rockland County Executive C. Scott Vanderhoef wants a new ramp to Metro North in Tarrytown and priority lanes for the existing bus service. Legislature Chairwoman Harriet Cornell wants bridge planners to consider the aesthetic impact of a new TZB design in addition to mass transit and environmental concerns. These were among the comments Rockland's leadership made on Tuesday at the Draft Environmental Impact Statement public hearings for the Tappan Zee Hudson Crossing Project.
Noting that ridership on the Tappan Zee Express commuter bus increased 82 percent between 2000 and 2011, Vanderhoef asked "Why not plan now for our TZx buses by using the emergency access lanes on the new bridge as bus lanes, and by connecting the emergency lanes to the travel lanes at the landings? It's feasible and it makes sense, and will at least give us one immediate way to get people out of cars and to move people faster." The complete text of Rockland County Executive Scott Vanderhoef's speech is available online.
"As the symbol of the lower Hudson Valley, there is no reason this bridge shouldn't be the most beautiful structure in the New York metropolitan region. Unfortunately, what comes across in the DEIS is a very utilitarian approach to the bridge design," said Cornell. "We would hope that the best lighting engineers would be consulted. Think of the magical lighting of the towers of the George Washington Bridge at night. That's what we want! A bridge for 150 years deserves to be beautiful." The complete text of the Chairwoman Harriet Cornell's  speech is available online.
See also:
Illustration: Tappan Zee Bridge sketch by Bill Batson ©2012