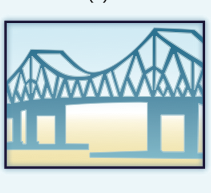 by Dave Zornow
Nyack, March 31 — Two Nyack River Villages wrote to the Tappan Zee Bridge project director last week with concerns about higher tolls, lost tax revenue, missing mass transit and improperly vetted environmental impacts. "The Village of Nyack asserts that the [TZB draft environmental statement] as written is flawed, incomplete, inadequate and insufficient under the law," wrote Nyack Mayor Jen White in a letter to Michael Anderson, the director of New York State's Hudson River Crossing Project.
The village which abuts bridge construction also cried foul about the DOT's hurry up offense to build a new bridge. "The original Tappan Zee Bridge project had a devastating effect on South Nyack, cutting it in two," said South Nyack Mayor Tish DuBow at last month's Draft Environmental Impact Statement hearings. "The state now claims that the impacts to South Nyack of replacing the bridge are 'insignificant.' This is ridiculous."  The South Nyack Village Board's response to the state criticizes New York's transportation department for glossing over important issues in its DEIS findings.
The complete text of the Village of Nyack's  and South Nyack's response is available online. Here are highlights of the DEIS comments from both villages.
Village of Nyack
South Nyack
See also: