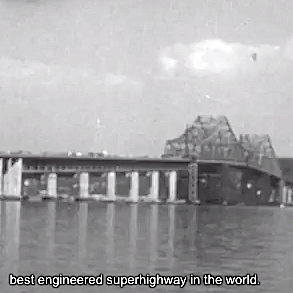 "Your Thruway Bridge is now formally open with another 25 miles of the longest, safest, best-engineered super highway in the world. Another historic chapter to the rich heritage of New York State and its cross-state thruway." It's hard to believe, but this vintage promotional footage from the NYS Thruway is talking about the the decaying and soon to be replaced Tappan Zee Bridge. It's the same bridge that today has an exceedingly high accident per mile rate and a rusting, swiss cheese,  under bridge super structure.
What a difference two score plus 16 years can make.
The promotional film — with an announcer who sounds like he was moonlighting from his regular job narrating Saturday afternoon matinee newsreels — proudly tells the story of a brand new Tappan Zee Bridge, produced shortly after it first opened in December 1955.
"The NYS Thruway, the superhighway of the great Empire State, is extended another 28 miles from Suffern and Yonkers. The most spectaular project of the thruway is the three mile bridge spanning the historic Tappan Zee section of the Hudson River between Tarrytown and Nyack. This is the largest bridge of its type in the world. It has over two acres of pavement spread over six wide lanes — three in each direction."
It's a four minute flashback to a simpler time when we believed all truths were told black and white — without a color commentary in a public form. You can see the documentary on the Opening of the Tappan Zee Bridge on the Thruway as part of the New York State Archives on YouTube.
See also: