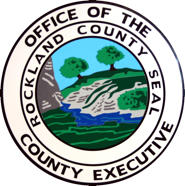 New City, Mar 7 — Rockland's County Executive delivered a somber message to the County Legislature last night in the annual State Of The County Address. Calling the 2012 budget a "a painstaking, often contentious and difficult process," Scott Vanderhoef discussed the challenges of running Rockland County under a property tax cap, coping with unfunded state mandates and delayed payments from the state government. Vanderhoef noted that because New York has yet to approve the sales tax increase passed by the County Legislature, the county is falling behind its estimated 2012 revenues by whopping $1.4 million a month.
Vanderhoef expressed disappointment that the initial plans for mass transit on the new Tappan Zee Bridge had been nixed. The county executive touted his own compromise solution for putting BRT on the New Bridge: letting today's Tappan Zee Express commuter bus run in a dedicated lane on the future TZB.
Regarding the county's Summit Park Nursing Home which the county had once hoped to sell to a public benefit corporation, Vanderhoef expressed confidence in the care offered at the facility but said "we simply cannot continue to run the nursing home and hospital the same way as in the past when we know it is losing millions of dollars a year."  Vanderhoef says a draft report from an outside consultant recommending options for running the facility is due out later this month.
Noting the layoffs and cutbacks demanded by budget austerity, Vanderhoef praised county employees for improved efficiencies during challenging economic times. In particular, he named Rockland County Clerk Paul Piperato's staff as "Department of The Year" for becoming the first county in New York to electronically file mandatory court records, saving the county time, material and storage for 15,000 documents each year.
Here is the text of County Executive C. Scott Vanderhoef 2012 State of The County Address:
I wish that I were before you tonight in better times, with better news. We are living through what has been called the Great Recession '€" the most difficult economic times in our nation's history since the Great Depression. It is a period our grandchildren and their children will be reading about in the history books. It is a time that demands strong leadership, steadfastness and unwavering determination to meet the challenges and set a course for a better tomorrow.
Today, we stand at a crossroads. Rockland County government recently received the sobering news that our bond credit rating has been downgraded from A1 to A3, due in part to our awaiting approval from our state officials of an increase in our sales tax rate and proposed deficit bond. We also must determine what becomes of the Summit Park Hospital and let our voices be heard as the Tappan Zee Bridge '€" the largest construction project in the history of the Hudson Valley '€" gets underway.
I would like to speak on each of these major areas with the underlying notion that properly addressed we will persevere and that better times are on the horizon.
I think we would all agree that hammering out a budget for 2012 was a painstaking, often contentious and difficult process. We faced numerous challenges. We are not alone. I speak with County Executives across this state as a board member of The New York State Association of Counties or NYSAC and counties all over are grappling with many of the same problems we are '€" a new property tax cap that does not exempt debt, onerous state mandates, delays in reimbursements for State aid, expensive contractual obligations and nursing homes that are simply too costly to run.
As you are well aware, my proposed budget for 2012 included severe cuts that were necessary to balance the budget. The Legislature decided to restore most of those cuts by proposing an increase in the sales tax rate, which I was reluctant to propose given the uncertainty of state approvals. Nevertheless, the Legislature's sales tax plan had bi- partisan support which, when coupled with a dedicated deficit bond repayment plan to eliminate the deficit, made for a stronger financial argument.
After approving your amended budget, we have been working well together to lobby State lawmakers to approve this plan as soon as possible. But we both know that the clock is ticking and time is running out. The adopted budget included the revenues of the increased sales tax beginning in March and since we have not yet received State approval, we have started to fall behind in revenues by $1.4 million per month.
I strongly suggest that if the sales tax proposal is not approved or near approval by May 1st, we take action on a contingency plan. In the following days thereafter, I will be submitting to you a series of resolutions to address the $14 million shortfall, which will include some combination of cuts in programs, cuts to contract agencies, additional revenue-generating actions, furloughs and layoffs.
Our County budget and the fiscal stability of Rockland are intrinsically tied to the future of the Summit Park Nursing Home and Hospital. Let me be very clear about one thing, Summit Park provides excellent care for its residents. That is not the issue. We simply cannot continue to run the nursing home and hospital the same way as in the past when we know it is losing millions of dollars a year.
Working together, we hired a consultant '€" Toski & Company '€" to recommend options for Summit Park. Chairwoman Cornell, thank you for your active involvement to date. You have been a vocal participant in the regular conference calls we've had with the consultants and we'll continue to work with you as this process moves ahead.
We have been advised that a draft final report is due out at the end of this month. We need to quickly review the report and make a decision as to the best course of action for the future of our taxpayers and residents. I have asked the Rockland Business Association (RBA) to identify several business leaders to help review the report and to offer their advice. Their business expertise will be helpful in guiding the County's decision making. Summit Park Hospital and Nursing Care Center must cease to be a financial burden for our taxpayers, without abandoning its role in providing special care for our residents.
As we grapple with the County budget and the future of Summit Park, long-awaited plans for a new Tappan Zee Bridge are moving rapidly. President Obama and Governor Cuomo have put this project on the fast track.
When the details for the new bridge were unveiled, I was disappointed that the earlier plans for commuter rail and Bus Rapid Transit (BRT) had been set aside. We certainly need a new, safer bridge that can sustain an earthquake and is not under constant repair.
We welcome the jobs and the economic stimulus such a massive project will bring to the region.
However, we've been discussing and waiting for a new bridge for more than a decade. Earlier designs and Alternatives Analyses have had much stakeholder input. Some of our landowners will have their property taken to build this bridge. We will endure an estimated five years of construction and inconvenience. And when the bridge is completed, we do not want to be sitting in traffic on it, just like we are today.
It is important to note that mass transportation is not just about speed and convenience, it also is about improving the quality of our air and the health of our residents. Our region is currently in non-attainment for Ozone and the new TZ bridge, as proposed, makes no effort to improve our air quality.
We understand the realities of the required study and cost that comes with mass transit and we're hesitant to hold up the entire project. That's why we've been looking for a middle ground, and I commend State DOT Commissioner Joan McDonald for coming down to Rockland to meet with me in my office on numerous occasions to hear Rockland's concerns.
This is what I have proposed. Let's turn our TAPPAN ZEExpress bus service into a true express bus by taking it out of the same traffic as cars and running it on the proposed emergency lanes as a dedicated lane on the new TZ bridge. It would be a sort of pilot BRT program.
In order to properly accommodate such a program, we need better access to the Tarrytown Train Station so that the buses aren't stuck in traffic once they cross the bridge. We're hoping the State and MTA will work with us to make this plan work.
The residents of Rockland need to know that we are working hard to make sure that this new Tappan Zee Bridge results not only in a newer, safer bridge, but also in a quicker, easier commute over the Hudson River. We will insist that ultimately the State live up to its word that this bridge will accommodate mass transit in the not so distant future. Rockland must get the mass transportation options we desperately need and deserve.
At the same time, we are working on another front to get better mass transportation for our residents. A recently completed report on the MTA shows about a $40 million value gap for Rockland County. For every dollar we pay to the MTA in taxes, tolls and fares, we get back just 62 cents in services.
We should explore the possibility of withdrawing from the MTA, but we need to proceed cautiously. If we withdraw, we may be obligated to repay a portion of MTA's bond debt and we don't know if we could get the State to approve handing over the revenue from the MTA taxes. That revenue would be critical if we are going to run our own transportation system. While exploring withdrawal, we will continue efforts to get improved services and additional funding for Rockland.
Jobs
We are pleased that the planned construction of the new TZ bridge will spur economic growth and bring jobs to the region. The latest unemployment numbers available show Rockland's unemployment rate at 6.5 percent for December '€" making us among the five counties with the lowest unemployment rates in the State. While Rockland is faring better than most other New York counties when it comes to our unemployment rate, the statistics don't mean much to those who are out of work and looking for jobs.
We're working to bring new jobs to the County through the efforts of the Rockland Economic Development Corporation and the Industrial Development Agency. We've been successful in attracting new businesses and supporting the expansion of existing ones, resulting in the creation of about 500 new jobs in the past year. Interestingly, more than 275 of those jobs are in the manufacturing sector.
In addition, our Workforce Investment Board or WIB is working to assist County residents looking for jobs through training and letting them know what opportunities are out there. On March 28th, the WIB and Rockland Community College are sponsoring the Job Readiness Forum at RCC to help attendees update their resumes and brush up on their interviewing and job search skills. Then on April 3rd, the WIB is cosponsoring the annual Job Fair at RCC where attendees can meet employers and apply for jobs.
We also have an exciting announcement about two new loan programs for small businesses that are expected to create hundreds of jobs. The programs '€" called the Grow Rockland Fund and the Economic Development Microloan Program have been approved by the federal government and will be administered by the County through the Office of Community Development.
These new loans will be available to small businesses to create and retain low-income jobs. It's a great way to stimulate economic growth and support our local businesses. The programs will allow Community Development to loan money at lower rates than banks, extend repayment terms, and ease the approval process.
We'll be releasing all of the details of these new programs when we begin accepting applications this spring.
Serving our Residents
As we continue to tackle larger issues, it's important to remember that the critical day-to- day business of government continues. Tonight, I chose to address the challenges before us, instead of listing all of our accomplishments over the past year. However, I urge you to read through the Goals and Achievements section of your books to review what each of our departments has achieved in 2011.
As our mission states: '€œWe will continue to serve the people of Rockland County well by providing needed services in a high quality, ethical, courteous, timely and cost- effective manner.'€
Our hard-working employees have continued to do just that. And they are to be commended for persevering during these difficult times with fewer staff and less resources. Around the clock our County employees are serving the residents of Rockland County. They are: Sheriff's deputies handling emergency calls; Sewer District workers making sure our wastewater is treated properly; doctors and nurses treating patients at the Summit Park Hospital; employees assisting residents in getting a passport or registering to vote; park workers maintaining our beautiful County parks; correction officers guarding prisoners; health department workers inspecting our restaurants; and the list seems almost endless.
Last year, some of our departments had to handle particularly challenging situations. The Department of Social Services saw a 23 percent increase in those needing help finding housing. More than one thousand families and single adults came to them for help, many because of evictions from their homes or unemployment. Social Services rose to the challenge, averting 879 families and singles from homelessness. The remaining individuals were placed in emergency housing until they could find a home.
The Office of Fire and Emergency Services coordinated the response to Tropical Storm Irene in August that left thousands of homes and businesses flooded. Highway crews worked long and hard to restore many of the roads left impassable and then began repairs on the more serious damage left to roads and bridges. Both departments were called to action again when the unprecedented October snowstorm had devastating effects on the county.
We're constantly working on improving County government. The construction of a new $8 million Radio Communications Center is underway and expected to be completed by May '€" six months ahead of schedule and on budget. It's being built as an addition to the Fire Training Center and will be critical to public safety in Rockland. The $30.4 million infrastructure necessary for the new, interoperable radio system is also being put in place. For the first time ever, our fire, police and EMS will all be able to easily communicate with one another on a dedicated County channel in an emergency. We plan on testing the new system the second half of this year and be up and running by January 2013.
Unfortunately, some residents are not quite sure what County government is all about or what it is that we actually do. Well this Sunday, they will have the chance to find out all about us at the Second Annual County Government Day. It's being held in conjunction with YouthFest and RCC's Open House. It's a great way to highlight the services we provide. Last year's was a huge success and I expect this year will be the same.
In another effort to reach out to our residents and make government more accessible we'll be unveiling a new, redesigned website next month. It will be more user-friendly with a new search function and will provide important information for our residents.
One of our departments that have embraced the concept of making government services more accessible and convenient for our residents is the Office of the County Clerk. The office provides extended office hours, mobile services, E-Z pass tags and money order sales, an ATM on the premises, a public drop box, designated parking spaces for customers and internet access to records and forms.
Last year, because of the efforts of County Clerk Paul Piperato and his staff, Rockland became the first county in the state of New York to implement e-Filing or the mandatory electronic filing of court records. This adds up to a tremendous savings for Rockland '€" a savings in time, material, labor and storage. Just think about it. About 15,000 court cases were filed manually each year before. Each case, which included stacks of paper, had to be manually docketed and filed away.
Paul and his staff have a new goal this year '€" to be the first County Clerk's Office in the state to implement e-recording or the electronic recording of land records.
Meanwhile, the County Clerk's Office has worked on special initiatives including enrolling veterans in the '€œReturn the F.A.V.O.R. program'€ which gives discounts to veterans at local businesses. Rockland now has 3,000 veterans and 350 businesses enrolled. In addition, the staff is working on developing a statewide program to increase organ donor registrations.
For all these reasons, I am proud to announce this evening that the Office of the County Clerk is the recipient of the 2011 Rockland County Department of the Year. Congratulations to Paul Piperato and his staff for doing an outstanding job and fulfilling the mission of County government so well.
DeFlumere Award
Tonight is a night when we also honor exemplary citizens with the Rockland County Medal of Valor, also known as the DeFlumere Medal of Valor, in honor of the first recipient, Alfred DeFlumere, Jr. This medal is awarded only in exceptional cases to residents who have demonstrated unusual heroism and courage in risking their lives, while attempting to save the lives of others. Tonight the honor goes to three Rocklanders '€" Todd Pezzementi, John Ferriello and Colton Reitzes, who together with Fausto Alvarez of Manhattan, pulled Annamaria Badenchini from her wrecked car, seconds before it exploded.
It happened last July 19th, about 6 p.m. Annamaria was heading north on the Palisades Parkway between exits 12 and 13, when she saw a large planter in the road. As she swerved to avoid it, her car flipped and rolled through trees in the median stopping upside down near the southbound lanes of traffic. The four men were in separate cars and could have all just passed by, but instead they stopped and rescued the badly-injured Annamaria from her car. Just when they pulled her clear of the wreck, the car exploded. Annamaria's life was spared because of the actions of these selfless men who put their lives at risk to save another. Congratulations to Todd Pezzementi, John Ferriello and Colton Reitzes who displayed such courage and compassion, and are this year's recipients of the Alfred DeFlumere Medal of Valor.
Remembering Our Veterans
There are many heroes who walk among us and I'm especially thinking of our veterans at this time. We are so fortunate to have citizens who are willing to put their lives at risk to protect us and our freedoms.
Our local Veterans Service Agency has always provided excellent support to our veterans to let them know about the benefits available to them. And now the agency is extending its focus to help the many veterans returning from Iraq who are looking for jobs. The Veterans Service Agency is partnering with the State Labor Department and setting up a database to help returning veterans find jobs in a difficult economy.
I'd like to take a moment to remember those veterans who did not make it home. There were four Rocklanders who were killed in action in Iraq: 20-year-old Manny Lopez of Haverstraw; 30-year-old Philip Esposito of Pearl River; 21-year-old Steven Vahaviolos of Airmont; and 26-year-old Justin Garcia of Valley Cottage.
In May, we will be adding a bronze plaque to the War Memorial in front of the Rockland County Court House with the names of these fallen soldiers. May they always remain in our hearts.
Conclusion
Over the years, together we have had great accomplishments of which we can be proud. Some that come to mind include purchasing more than 1,200 acres of open space, creating 10 new County parks, constructing five new buildings, creating more than two thousand units of affordable housing, beginning the School of the 21st Century, initiating an award-winning GIS mapping system, reducing the welfare rolls and bringing a local VA clinic to Rockland.
I am hopeful that we can work cooperatively again, with decisiveness, determination and urgency as we take on critical issues that demand our immediate attention. The actions we take this year will shape the future of Rockland County.