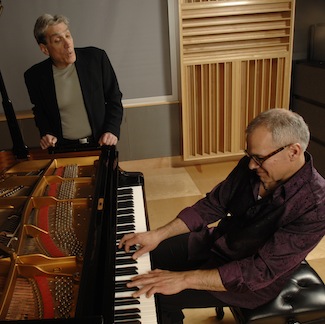 What do you get when you team the former Poet Laureate of the United States with a Grammy Award Winning Jazz Pianist? A blending of poetry and Jazz called POEMJAZZ, that you can hear for yourself on Fri Mar 16 in the Carnegie Room at Nyack Library at 7:30p.
Renowned poet Robert Pinsky and composer-arranger Laurence Hobgood say POEMJAZZ treats a voice speaking poetry as having a role like that of a horn: speech with its own poetic melody and rhythm, in conversation with what the music is doing. To put it simply, POEMJAZZ is a conversation between the sounds of poetry and music. '€œIn jazz as in poetry, there is always that play between what's regular and what's wild," says Pinsky. "That has always appealed to me.'€
The only three-term United States Poet Laureate, Robert Pinsky brings an innovative energy to all he does. Pinsky founded the Favorite Poem Project, in which thousands of Americans'€"of varying backgrounds, all ages, from every state'€" shared their favorite poems, as documented by the video segments, as seen on PBS and now at www.favoritepoem.org.
His recent works include Selected Poems last year and his 2010 libretto for Tod Machover's opera Death and the Powers: A Robot Pageant. Next year, his adaptation of Friedrich Schiller's Wallenstein will be presented by the Shakespeare Theater of Washington, D.C.
Best known for his collaboration with vocalist Kurt Elling, multiple Grammy-nominee and 2010 Grammy-winner Laurence Hobgood has enjoyed a multi-faceted and dynamic career. Musical Director for Elling since 1995, he's played on, composed, arranged and co-produced all of Elling's CDs (six for Blue Note and three for Concord), each Grammy-nominated. 2009'€²s Dedicated To You: Kurt Elling Sings The Music Of Coltrane and Hartman, recorded live at Lincoln Center, won the 2010 Grammy Award for Best Vocal Jazz Record.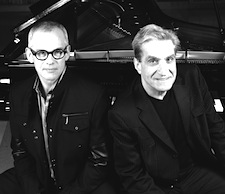 Pianist Laurence Hobgood and Narrator Robert Pinsky will perform "An Evening of POEMJAZZ," on Fri Mar 16 at 7:30p at the Nyack Library, 59 South Broadway, Nyack NY. Tickets can be purchased online or in person at the Library's Circulation Desk.  Tickets are $25 for general admission. Senior tickets ($20), young adult ($15)  and children's tickets ($5) are also available. For more information, call 845-608-3593.
POEMJAZZ is also a new CD, produced by Richard Connolly and Laurence Hobgood on the Circumstantial Productions label. A limited edition CD with booklet of poems will be available at Pinsky and Hobgood's POEMJAZZ performances.
In addition to founding Nyack-based Circumstantial Productions, Connolly is Chairman of the Communication Media Arts Department at SUNY Rockland Community College. In October 2011, Circumstantial Productions released CONVERSATIONS IN BLUE: David Maxwell & Otis Spann, a project that received three Blues Music Awards nominations from the Blues Foundation in Memphis. Maxwell and Spann's "Conversations In Blue" collaboration uses original 1960's tracks from OTIS SPANN IS THE BLUES, sessions originally produced by writer and civil rights activist Nat Hentoff.