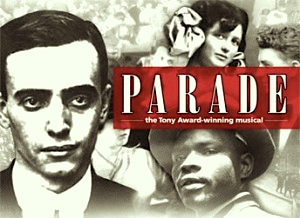 Parade, the Tony Award-winning musical about racism, anti-semitism and the fight for justice completes its run at Nyack High School this weekend with Friday and Saturday performances Mar 23-24. The Nyack High School Drama Club presents the dramatic story of the 1913 conviction of Jewish factory owner Leo Frank for accused rape, the subsequent commutation of his sentence by Georgia's governor and the lynch mob which broke him out of prison and put Frank to death.
The Nyack High School Drama Club will perform Parade at Nyack High School on Mar 16-17 and 23-24 at 8p. A matinee performance at 2p on Mar 24 has also been scheduled. The nationally recognized acting company is led by director and set designer Joseph J. Egan, Greg Baccarini Co-director/Music staging and Musical Director Kurt Kelley.
Nearly 100 years have passed since the true events that inspired the play with a book by Alfred Uhry and music and lyrics by Jason Robert Brown, but the impact of those events still affect us today. The 1913 rape and murder of 13-year-old Georgia factory worker Mary Phagan led to the heated murder trial and conviction of her boss, Leo Frank, a Jew from Brooklyn, who was lynched by a mob that broke him out of prison after his death sentence was commuted to life in prison in 1915. The murder, the investigation, trial and eventual hanging of Frank sparked the resurgence of the then-defunct KKK and the birth of one of the leading civil rights organizations, the Anti-Defamation League.
Nyack's drama club last tackled the complicated subject of social justice two years ago during The Laramie Project, a play about the small town in Wyoming where  Matthew Shepard, a gay college student, was found tied to a fence after being brutally beaten and left to die in 1998.
For more information about the show, including program sponsorships and tickets, call 845-353-7100 or e-mail nhsdramaworks@gmail.com.