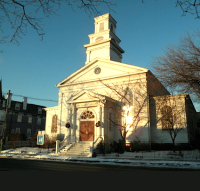 by Kim Cross, Executive Director of the Nyack Center
Nyack Center is delighted to announce that Emily Cea and Marie Joseph have been selected for Nyack Center's first Annual Young Woman of Leadership and Vision Scholarships. Emily Cea received the senior scholarship for $1,250 award for books, courses and other collegiate expenses. Emily Cea and the other finalists gave presentations at Maria Luisa Gifts and Accessories and a panel of judges'€"along with an audience'€"cast votes for a winner. Marie Joseph was winner of the $250 junior scholarship.
Emily Cea and Marie Joseph will be honored along with the four other outstanding finalists Briana Nelson, Katie Duggan, Diana Barany and Gabrielle Garfunkel  at the Nyack Center's Women of Leadership and Vision Brunch event on March 24 at 10a.
"We were amazed the incredible support from the community," said Kim-Adele Rosner from Wright Bros. Real Estate, who started the scholarship this year. In additon to Rosner, eyevolution OPTIQUE, Gypsy Donut, Rebecca and Peter Lang and Susan Wilmink and Thomas Schneck contributed to the scholarship fund.
Since 2005, Nyack Center has hosted Women of Leadership and Vision during Women's History Month, in honor of women in Rockland County who demonstrate leadership and vision in Rockland and the world. The 2012 honorees  are: Katie Berry, Victoria Hertz, Selena Nixon, Marion Breland-Oswald, Laurie Seeman. Tickets are $55. Call Nyack Center to RSVP (845) 358-2600.