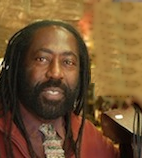 by Karim Deen
I got out of Nyack hospital on Sunday, March 12, after a 10 day stint preceding a four day excruciating ordeal due to a  ruptured appendix and some very serious related complications. When I lay in that hospital bed trapped in my own body wondering if I was going to get back to my family, business and community, I had plenty of time to reflect and bring clarity to those things in life that are truly important.
I'd like to believe that my surviving a near death experience was due first and foremost to God's intervention and blessing. Second,  mind over matter. My surgeon said that under the circumstances my rapid recovery was one of the most remarkable he'd ever seen. And last, but certainly not least, plugging into the incredible love, well wishes, and unprecedented support and goodwill that I have received from this amazing village we call Nyack.  The cards, the hospital visits, the phone calls, the flowers, the offers of assistance. To the people who have walked into the gallery since I've been back these last few days, simply to say get well, we'd like to make a small donation towards your medical expenses. All I can saw is wow …!!!!
My heartfelt thanks to all. "It Takes A Village" truly lives in the Nyacks.
First, I have to thank Dr Paramjeet Singh, my emergency room surgeon, a brilliant man who diagnosed and predicated with pinpoint accuracy my symptoms, prognosis and every step of my recovery to date. And to the entire staff of Nyack Hospital from the members of the emergency room to every member of the Intensive and Critical Care units. I was treated with the utmost skill, kindness, compassion and humor. All concerned had obviously found there true calling.
Very special thanks to Dr.Kalpana Ramdas, for thoroughly checking me out, then promptly informing me that the only place I was going to from her was Nyack Hospital Emergency room.
Thanks to Jerry Koblin for scaring the pants off my son Josh, after I had given him a note to deliver to Jerry with my symptoms scrawled on it. At that time I was unable to get out of bed and was asking for over the counter meds, and real ginger ale for what I believed to be a severe case of gastritis, or constipation. He told my son, "you tell your dad he could potentially die if he did not get his A*# to the emergency room." Josh, being the unbelievable kid that he is, set the ball in motion. Being his father is my proudest achievement and makes my heart soar with every breath I take.
To my sister Fatima, I love you dearly. She's an incredible lass who possesses a much better handle regarding the balance of work and play than I have achieved to date. Thanks for rushing to my aid and always being there for me. There is no one like you and I'm proud to call you Sis. Mom would be proud.
To Jack Dunnigan of Pickwick books and his amazing family: Somewhat of a  local historian, a tireless advocate for the betterment of our  community, a man who's generosity, compassion and humor has no boundaries. It is, and has been, a honor and a blessing to count him as one of my dearest friends and comrade in arms regarding life in general and in all things Nyack in particular.
To Craig Gordon, a veritable encyclopedia regarding alternative/healthy foods and living. A man dedicated to promoting the businesses of the Nyacks and Piermont via his online projects. Without him I may not have gotten help in time. Thanks for getting the word out to the  community. Love you Craig, it's a honor to count you as my friend.
To John Costa and family, of Hickory Dickory Dock, a pillar of our community, a brilliant lawyer and noble advocate in my time of need. I will never be able to thank you enough for your friendship and all you have done for me during this most difficult time.
To Gina and Jorge Cambre of Casa Del Sol. I love you guys. Thanks for pulling out all the stops at such short notice and for being such gracious hosts for the fundraiser.
To Chris and Gail Spezial of Nyack Gourmet, thanks so much for the amazing food.
To Maria Luisa of Maria Luisa Boutique, Loreen of Hickory Dickory Dock, Laura Of Sanctuary, and Julia of Saffron Trading. Much love, big hugs and deep respect to all of you for pulling off a miracle fundraiser, given such short notice.
If there is one thing I have learned, it's life's small pleasantries that count the most. Smile at, say hi to and acknowledged all you met. Use your every waking moment to let those that are dear to you know how much you love and cherish them. And finally extend a helping hand; it always comes back tenfold.
It's a blessing to live here and an honor to be an active member of this community. Thank you all for your well wishes and support over the years, and at this moment in particular.
Karim Deen