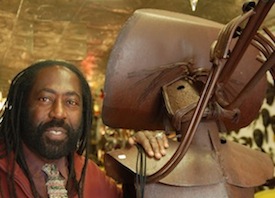 The owner of Hacienda World in downtown Nyack suffered a catastrophic illness last week.
Karim Deen is in the hospital recovering from surgery following a ruptured appendix. He's facing a mountain of medical bills — and because he's a sole proprietor of a Main Street business, Hacienda has been closed while he's been in the hospital.
On Sunday, Mar 11, some of his neighbors on Main Street are holding a fundraiser to help Karim pay his bills. Please join us on Sunday night for a silent auction to benefit Karim Deen from 6-9p at Casa Del Sol, 104 Main Street.
Karim has been active in our community, participating in groups such as the business Association of Arts Crafts and Antique Dealers of Nyack (ACADA). For the last decade, he has advocated for the interests of Nyack shoppers and its business community to ensure the village has a vibrant local retail sector.
Let's show our support for Karim during his time of need. This weekend, Hacienda will be open, staffed by friends and peers in the Nyack business community. Karim needs our support. See you all on Sunday at Casa Del Sol. If anyone has any ideas to provide additional support, contact Jack Dunnigan at Pickwick at 358-9126.