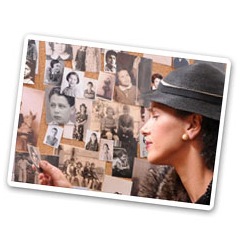 An annual culture- crossing cinematic event comes to Rockland this weekend featuring movies from Argentina, Croatia, Czechloslovakia, Germany, Hungary, Israel, Poland, England and the US. The 9th Annual JCC Rockland International Jewish Film Festival features 20 films in 18 days at three theatres across the county.
On Sun Mar 11, Remembrance has its world premiere in Rockland.  Inspired by actual events, the movie depicts a remarkable love story that blossomed amidst the terror of a German concentration camp in Poland 1944.
The festival closes on April 1 with "We are Still Here," an intimate family account retracing the lives of Holocaust survivors produced by local filmmaker Evan Kleinman.
This year's Disabilities Awareness films are Mabul (the Flood) and Dolphin Boy. Mabul is the story of a dysfunctional family in Israel and the upheaval they suffered when they learned their first born son was autistic and the the spiraling of their problems when he is suddenly returned to their home, with no supports.  Dolphin Boy, a true story of how a critically beaten Arab youth from the Israeli territories is treated by Israeli doctors, who feel the only thing that will help is Dolphin Therapy.
For ticket information and show times and locations, visit the JCC Rockland International Jewish film Festival Website.
Here's a list of what's playing from March 11 through April 1 in Rockland County:
Remembrance
Sunday, March 11 at 7:30pm at Lafayette Theater
David
Tuesday, March 13 at 7:30pm and Shown Again Sunday, April 1 at 1pm at AMC Theater
This film is about faith, friendship, family and the challenges of being different in America, as seen through the eyes of Daud, a Muslim boy studying to be an Imam and his Orthodox Jewish friend, Yoav. Through an innocent act of good faith, Daud befriends a group of Brooklyn Yeshiva students who assume he is one of them. "David" plays along, unable to resist the joys of baseball cards, swimming and music. The web of deceit unravels, forcing Daud and Yoav to confront the complexities of life in multicultural Brooklyn, and the reality of prejudice, cultural boundaries and different religions.
Israel Inside: How a Small Nation Makes a Big Difference
Wednesday, March 14th at 7:30pm at RCC Cultural Arts Center
A new feature length documentary that explores the positive characteristics of Israeli society from a humanistic, psychological, and emotional perspective. This insightful and uplifting documentary sidesteps the usual conversation of politics, conflict and violence, and tells the story of the Israeli people whose resilience has propelled Israel to the forefront of world innovation and progress.
My First Wedding
Thursday, March 15 at 7:30pm at AMC Theaters
Jewish-born but now secular Adrin (Daniel Hendler) and Catholic-born but now quasi-secular Leonora (Natalia Oreiro) have finally reached their wedding day. Instead of gracefully embracing matrimony, Adrin spends the hours leading up to the ceremony trying to postpone it, not because he's got cold feet (or does he?), but because he's clumsily lost both his and his bride-to-bes sacred wedding rings. Disaster ensues in director Ariel Winograd's winning comedy about the politics of the proverbial "Big Day." A box-office success in Argentina!
Kaddish for a Friend
Friday, March 16 at 1pm at Lafayette Theater
A Russian Jewish WWII veteran and Palestinian teen form an unlikely friendship in a stirring debut by Moscow-born German filmmaker Leo Khasin. Growing up in a Lebanese refugee camp, 14-year-old Ali (Neil Belakhdar) has learned to hate Jews before escaping with his family and relocating to public housing in Berlin's Kreuzberg quarter. He tries to gain acceptance among his Arab peers by targeting an elderly Russian Jew, Alexander (Ryszard Ronczewski), vandalizing the old man's apartment and defacing the walls with anti-Semitic graffiti. Threatened with deportation, the teen is forced to apologize, sparking a feisty relationship with Alexander, which evolves from mutual distrust to codependence. Based on actual events and embodying the spirit of building bridges of understanding, Kaddish for a Friend unfolds with gritty realism and a light touch.
Reuniting the Rubins
Saturday, March 17 at at 8:30pm the AMC Theaters
Lenny Rubins, (Timothy Spall, The King's Speech), has to put his dream retirement on hold when his ailing mother (Honor Blackman, Goldfinger) emotionally blackmails him into reuniting his estranged children for Passover. They may be peas from the same pod, but to Lenny, his grown children are not even from the same planet: a hard-nosed capitalist (James Callis, Battlestar Galactica), an outspoken eco-warrior daughter committed to the cause, an outer-worldly Buddhist Monk, and a Jerusalem-based Rabbi. While they might quarrel, fight, and perhaps even be starting a war in Africa, they are still family. It is going to take a whole lot of soul-searching and sacrifice for everyone to come together in this heart- warming and comic family story.
Restoration
Sunday, March 18 at 7:30pm at Lafayette Theater
An aging recluse tries to salvage his antique furniture store and solitary way of life in this artfully nuanced drama, nominated for 12 Israeli Ophirs. After his longtime business partner dies, stoic Yakov Fidelman discovers his Tel Aviv workshop is near bankruptcy. When his estranged son Noah tries to sell the property from under him, Fidelman hires apprentice Anton to refurbish a neglected Steinway that could save the business. An attraction between Anton and Noah's pregnant wife Hava complicates matters. Anchored by Sasson Gabays mesmerizing performance, director Joseph Madmonys critically-acclaimed psychological study depicts a complex set of frayed relationships for which restoration proves an apt metaphor. Honors include the Sundance Dramatic Screenwriting Award, and top prizes at the Jerusalem and Karlovy Vary International Film Festivals.
Unmasked: Judeophobia and the Threat to Civilization
Monday, March 19 at 7:30pm at Lafayette Theater
Filmmaker Gloria Greenfield travels from Israel to Europe to North America, covering a meticulous examination of rising anti-Jewish ideology from all angles, including Christian and Islamic polemics against Jews, the proliferation of anti-Israeli bias in academia and cultural institutions, misinformation campaigns and state-sanctioned denials of Israel's right to exist. Wide-ranging interviews include such eloquent and respected voices as commentator Alan Dershowitz, Senator Joe Lieberman, former U.N. ambassador John Bolton, human rights activist Natan Sharansky, British attorney Anthony Julius, Wall Street Journal columnist Bret Stephens and Israeli Deputy Prime Minister Moshe Yaalon, among many others. The film is a call to action and urgent reminder that anti-Semitism is a menace not only to Jews, but to the human condition itself.
Dressing America: Tales from the Garment Center
The Tailor and The Rosenwald Schools.
Tuesday, March 20th at 7:30pm at AMC Theaters
Dressing America: From the directors of From Swastika to Jim Crow (NYJFF 2000) comes this fascinating documentary exploring the post-World War II heyday of the garment district in Manhattan. Mavens of the "shmatte" business pay tribute to the Jewish immigrant roots of the garment industry, when Sam, You Made the Pants Too Long was a top musical hit and American designers challenged the hegemony of Paris fashion.
The Tailor: A delightful short comedy with influences of Buster Keaton, it is crafted as an homage to the past with a present day twist. Culture and confusion meet on a Brooklyn street in this hilariously charming tale.
The Rosenwald Schools Early in the 20th Century, philanthropist Julius Rosenwald partnered with Booker T. Washington to build 5,300 schools for rural African American communities in the South at a time when few African Americans received any public education. Born in Springfield, Illinois, Rosenwald was the son of German Jewish immigrants who rose to become one of the wealthiest men in America as the head of Sears Roebuck and Company. Influenced by the social reform gospel espoused by Rabbi Emil Hirsch of Chicago's Sinai Congregation, Rosenwald used his great wealth and talent for leadership as he tried to fix what he viewed was wrong with the society, truly living the ideals of tikkun olam, repairing the world.
Standing Silent
Wednesday, March 21 at 7:30pm at RCC Cultural Arts Center
Baltimore is the home of an insular Orthodox Jewish Community. A scandal erupts after Baltimore Jewish Times reporter Phil Jacobs reports on sexual molestation allegedly perpetrated by Rabbis within the community. This multi-year investigation confronts the Orthodox community, who in turn shun Phil Jacobs, who is Orthodox himself. He becomes an outcast in his quest for the truth. Emotional and unrelenting, Jacobs encounters denial, ostracism, accusations of lashon hara (speaking evil), and demons from his own past as he pursues truth and justice. Recipient of a Sundance documentary film grant.
The Rescuers
Thursday, March 22 at 7:30pm at AMC Theaters
The latest film from Emmy Award-winning filmmaker Michael King, uncovers the largely unknown stories of 13 heroic and courageous diplomats who, at tremendous personal cost, saved tens of thousands of Jews during World War II. The film follows Stephanie Nyombayire, a young Rwandan anti-genocide activist who lost 100 members of her family in the Rwandan Genocide of the 1990s, and Sir Martin Gilbert, the renowned 20th century and Holocaust historian, as they travel across 15 countries and three continents interviewing survivors and descendants of the diplomats. Nyombayire and Gilbert explore and contemplate the past in a quest, in part, to understand what should be done to stop the ongoing genocide in Darfur and elsewhere.
Bride Flight
Saturday, March 24th at 8:30pm at AMC Theaters
A romantic epic based on the true story of three women who become fast friends as brides-to-be, yearning to escape the gloom of post-war Holland. En route to their fiancés in New Zealand on the historic 1953 air race from London, they encounter and become inextricably linked to a hunky bachelor named Frank. Despite efforts to escape it, the past eventually overpowers them all. A blockbuster from Holland, Bride Flight is based on the bestselling novel by Marieke van der Pol.
Nicky's Family
Sunday, March 25th at 7:30pm at Lafayette Theater
Dubbed Britain's Schindler, NICKY'S FAMILY illuminates the legacy of a pre-WWII mass rescue of children. In December 1938, Sir Nicholas Winton, a London stockbroker, masterminded a series of rail-sea transports to save 669 young Czech and Slovak refugees, most of them Jewish and in imminent danger of deportation. Not even Winton's wife knew of his noble acts until a scrapbook detailing the mission was uncovered in 1988. Newsreels, archival photos, dramatic reenactments, and narrated by rescued children and Winton himself, gives the film added immediacy as grandchildren of the rescued and others describe the resulting humanitarian feats Winton, who was knighted by Queen Elisabeth II and nominated for the Nobel Prize for Peace, inspired.
Mabul (The Flood)
Tuesday, March 27th at 7:30pm at AMC Theaters
Everything is complicated in Yoni's life. He's almost 13 and smart, but physically underdeveloped. As he chants the story of Noah's Ark in preparation for his bar mitzvah, his 17-year-old autistic brother Tomer returns home from an institution. Buried secrets come to light and Yoni's bar mitzvah Torah portion'€"Noah and the flood'€"becomes a metaphor for the family's fragile and frozen existence. It's a pretty rough growing up and growing together for the entire family as painful truths, mistakes of the past and sorrows of the present are confronted. Nominated for six Ophir Awards (Israeli Academy Awards), Mabul features unforgettable performances by Ronit Elkabetz (The Band's Visit) and Tzahi Grad (Eyes Wide Open).
David & Kamal
Thursday, March 29th at 6:00pm at AMC Theaters
ThurTwo nine year old boys with nothing in common strike up a tender friendship following a tense first encounter in this warm-hearted drama from Israel. His parents divorced, young David has just arrived in Israel from America for a visit with his father when local Arab Kamal snatches a pouch of collectable coins right out of his hands. Abandoned by his father, Kamal lives in an Arab neighborhood of Jerusalem, and works hard to ensure that his mothers and sisters are well fed. After Kamal steals David's coins, the young victim scours the streets for the thief and runs afoul of a local Arab gang. When Kamal comes to David's rescue, the two young boys forge a powerful bond that transcends social taboos by revealing how well they can get along despite their differences.
Dolphin Boy
Thursday, March 29th 8:15pm at AMC Theaters
When Morad, a 17 year old Arab Israeli, is brutally beaten and unable to speak, trauma psychiatrist Dr. Ilan Kutz recommends controversial "dolphin therapy." In Eilat, Morad swims with the dolphins and slowly regains speech, beginning a miraculous three-year recovery. Then he falls in love with a Jewish woman. Filmmakers Dani Menkin (39 Pounds of Love, 2005 Festival Audience Award winner) and Yonatan Nir capture the love and support of Morad's doctor and family. Stunning underwater footage. Dolphin Boy was recently nominated for an Ophir (Israeli Academy Award) for Best Documentary.
Follow Me: The Jonathon Netanyahustory Story
Friday, March 30th at 1:00pm at Lafayette Theater
Co-directors Jonathan Gruber (Jewish Soldiers in Blue and Gray, NYJFF 2011) and Ari Daniel Pinchot (Producer, Paper Clips) present a poignant biography that looks at modern-day hero Yonatan Netanyahu, an elite army commando killed in Operation Entebbe and brother of current Israeli Prime Minister Benjamin Netanyahu. Shuttling among milestones of his short, but fascinating life, the film draws on the soldiers own prophetic writings that reveal deep-rooted introspection, human frailty and heartfelt passions. The journey comes to a fateful crossroads in July 1976 as Netanyahu leads an audacious raid to rescue Israeli hostages from a hijacked flight at Ugandas Entebbe Airport. Newly revealed archival materials and interviews with Prime Minister Netanyahu, Defense Minister Ehud Barak and Yonis ex-wife Tuti Goodman, feature prominently.
Sarah's Key
Saturday, March 31st at 8:30pm  at AMC Theaters
Julia Jarmond (KRISTIN SCOTT THOMAS), an American journalist married to a Frenchman, is commissioned to write an article about the notorious Vel d'Hiv round up, which took place in Paris, in 1942. She stumbles upon a family secret which will link her forever to the destiny of a young Jewish girl, Sarah. Julia learns that the apartment she and her husband Bertrand plan to move into was acquired by Bertrand's family when its Jewish occupants were dispossessed and deported 60 years before. She resolves to find out what happened to the former occupants: Wladyslaw and Rywka Starzynski, parents of 10-year-old Sarah and four-year-old Michel. The more Julia discovers – especially about Sarah, the only member of the Starzynski family to survive – the more she uncovers about Bertrand's family, about France and, finally, herself.
We Are Still Here
Sunday, April 1 at 3:30pm  at AMC Theaters
SEvan Kleinman is a grandchild of Holocaust survivors.  When he was thirteen years old, his grandparents, both the only surviving members of their families, had their testimonies video recorded.  After hearing their stories for the first time, he realized he had only just begun to understand what they had endured. In this first-person documentary, the director takes his family to Poland to walk the earth where their family was meant to be destroyed. While confronting the horrors of our past, we ultimately discover the great miracle of our existence today and leave behind a marker that tells the world: We are still here.