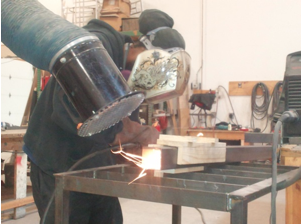 by David Schloss
Three Nyack familes who have been friends for decades are starting a new business from scratch, making donuts from scratch. Here's a progress report on Gypsy Donut And Espresso Bar, scheduled to open in late March on N. Franklin Street in downtown Nyack
We've begun what I'm going to call the '€œThe Final Countdown'€ portion of our build. This week we got to the point where we're actually building out our bar and prepping the floor for the epoxy. (The VOC-free Epoxy, by the way.)
When I say that we're building the bar, I really mean that we are building it. BJ, one of the partners here at Gypsy is currently in the process of welding the base. Here's our partner BJ in full welder regalia'€"well I don't really know exactly how to describe what he's doing except to say that he's welding.
Ooh, sparks!
Anyhow, the bar building has started, the floors have been cleaned with a low-VOC acid solution to get up any remaining grease or grime and we're going to start Epoxy this week. That means that equipment can start to arrive next week and then it's a matter of getting things installed and certified by the various departments that have to come and do those things.
While we're in high gear, that doesn't exactly mean we'll be open in a few days. Nothing ever goes perfectly when waiting on massive quantities of restaurant equipment and we're sure that something will happen to throw off our plans a bit.
We've had some of those recently. One issue isn't really all that surprising to anyone who has waited for Verizon. They didn't show up for an appointment. An appointment that they scheduled a month-and-a-half from the date I ordered service. I sat in the empty store for nine hours waiting for them. (Okay so I got a bit of spackling done and I also cleaned more, but still, it's not like we were open for business and selling things.)
Two days after they missed the appointment they sent an email rescheduling (without checking my availability) for March 1st. Anyone want to take bets on whether they show up or not?
We spent a lot of money this last week. We've ordered all of our paper goods, for example, and it's really a lot of stuff. All of our cups (both hot and cold cups) are from a renewable corn product that's compost-able. That means that you'll be able to put your cups in our compost garbage and it will not only stay out of the landfill but will help to make a garden grow. We've talked to the Nyack Community Garden about providing the compost material to them, though there are some issues there with land use that we're working on. Maybe we'll just end up making a great big Gypsy Compost Bin somewhere and inviting people to take it.
It's pretty cool to me that what looks like a plain ol' until-the-end-of-time plastic cup is really an environmentally friendly compost product.
It's also pretty cool that the boxes they're shipped in are from recycled material (and compostable) and shipped from a company that buys wind energy credits to offset the effects of shipping.
We've put in the payment on the fryer, which should show up the first week in March, along with some other gear that we've waiting on. One those roll into place we can have the plumbers and electricians come and hook them up.
Stumptown took the order for our gear. We have an incredibly pretty (and sturdy) La Marzocco Linea EE espresso machine coming as well as some incredibly precise grinders and scales. I mentioned on Facebook that I'm in love with our scale, it's the iPad of scales. I'm hoping it stands up to the rigors of daily shop use, we'll see. It sure is pretty though.
And speaking of pretty, much of our interior decoration is here. There are a few things we're waiting on but I've been thinking about the inside of a shop for most of my life and I've got some cool things cooking, so to speak.
We also bid on, and won a truck on eBay. Since we won the auction we've had word from the owner that it didn't start (not surprising for a diesel truck that has been left alone for a year) and as soon as a mechanic signs off on it we're going to pick it up and start the process of converting it to bio diesel, powered by our own oil.
This week we're putting down the (VOC free) epoxy on the floors, installing the bar and getting ready for the equipment to show up. So close. So close.
David Schloss is a lifelong foodie with expertise in new businesses start-ups, social marketing and e-commerce. He is one of the partners at Gypsy Donut and Espresso Bar.