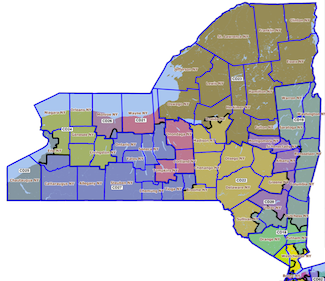 by Cliff Weathers, NYaltnews.com
This week proposals for Congressional redistricting in New York were released. The Democratic-controlled State Assembly and GOP-controlled State Senate both offered their own plans, and sometimes they surprisingly agreed. You can do your document dive here and sort out the information you need for your area.
The maps are independent of each other, so don't assume that the special master'€"who will ultimately decide redistricting'€"will make compromises between the two plans. It is entirely possible that what's handed down from the bench might not resemble either proposal. Anything that's obviously a gerrymander will likely be dismissed, so don't get too upset by a few outrageous boundaries or power plays.
New York is one of the last states to complete the redistricting process. The uncertainty centers around losing two Congressional districts and both parties are playing a game of musical chairs in trying not to lose clout. This tardiness has also become a source of anxiety for members of Congress and their possible challengers, who don't know if they'll be living in the district, or which voters they should target before the June 26 primary.
The CUNY Mapping Service at the Center for Urban Research has created interactive Congressional district maps which let you compare the Senate and Assembly plans with each other and with current districts.  Here are some examples:
New York is losing two congressional seats because it has grown slower than the rest of the country. Thus, there has been a lot of speculation about which districts would get absorbed by neighboring ones. The map released by State Senate Republicans only eliminates two Democratic districts, as speculated. This happened despite that almost all the population loss in New York happened in traditionally Republican districts. The districts eliminated by the Republicans include retiring Congressman Maurice Hinchey's 22nd district and Carolyn McCarthy's 4th district. Under the Republican plan, McCarthy would have to run a primary against neighboring Congressman Gary Ackerman. It also moves Congressman Charles Rangel's up into the Bronx, making it more of a Latino district. Two New York City Republicans, Bob Turner and Michael Grimm, will have their districts bolstered under the Republican plan.
This is not a serious proposal by the NY GOP. The State Senate Democrats did not release a congressional redistricting map proposal because they collectively believe that politicians shouldn't draw district maps.
The Democratic Assembly map is nowhere near as partisan as the State Senate plan. It doesn't give any more advantage to Democratic incumbents from what we can see. But along with the Republican map, it eliminates four of the five contenders against GOP Congresswoman Nan Hayworth from the district and would put Dutchess County into Hayworth's district. Only Wappingers Falls Mayor Matt Alexander remains within the proposed boundaries. While congressional candidates do not have to live in the district, it sure helps'€"especially for challengers.
"As soon as we saw the maps at midnight last night, my wife and I began a search for a house in the any of the district's proposed iterations," said Rich Becker, who has led the money race and has been ringing up endorsements. "Even though no lines are yet finalized, we are fully prepared to see this through. I am in this campaign to win it despite any attempts by special interests groups or Republican power brokers in Albany to disenfranchise the voters of the Hudson Valley by drawing the strongest Democratic candidate by far out of the district. We are 100% committed to defeating Nan Hayworth and once again electing a Congressman who'll fight for all of us and not just the political and financial elites," said Becker.
Democratic Congressman Eliot Engel's seat may move north and have all of Rockland County, and some of Westchester. Congresswoman Nita Lowey's new district would contain most of Westchester County, but not the Mount Kisco area where Hayworth lives.
If you find that you're unhappy with the maps submitted by politicians, New York State has created a tool to create and send your own. Good government groups such as Common Cause will likely send proposals to the special master as well.
Cliff Weathers publishes NYaltnews.com, where this article originally appeared.
See also: