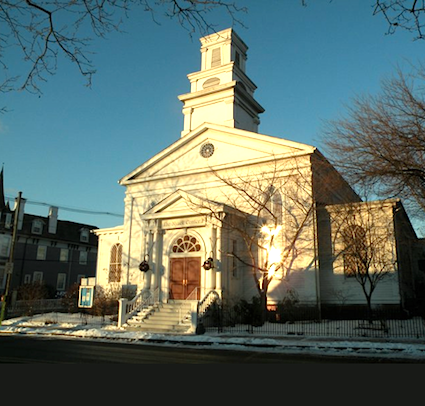 by Dave Zornow
Nyack, Feb 16 — The NYS Comptroller's Office made it official: no good deed goes unpunished. The State Comptroller has cited the Village of Nyack for insufficient oversight of the Nyack Center when it paid for a summer program for Nyack School District kids from lower income households who don't live in the Village of Nyack. "Because Village officials did not properly monitor the contract with the [Nyack] Center and enforce the terms of the contract, Village [of Nyack] taxpayers inappropriately paid $216,026 from 2008 to 2011 for non-Village residents to attend the Center's summer camp," said the Comptroller's Office in a 23 page report published earlier this month.
Nyack Mayor Jen White says the village accepts the findings of the comptroller and is working to implement the recommended changes. "The issue involves Nyack School District students who attend Nyack Center's Summer Camp but live outside of the Village of Nyack in Clarkstown, Orangetown or South Nyack," she said. "Separate accounts should have been maintained to track summer camp attendees who live outside of the Village of Nyack. We need to be more buttoned up going forward."
Camp Nyack, run by the Nyack Center, is a Summer program that replaces an after school program during months when school is not in session. It primarily serves students from lower income families and provides a breakfast program and day care for the children of working parents.
"The most important thing is that children that needed services were served," says Kim Cross, Executive Director of the Nyack Center. "We have a collaborative process with the village. They are an incredible partner we share info back and forth freely. Once this was brought to our attention, we set up a separate account." Cross says the Nyack Center has been working with the village since last summer to implement the new accounting practices recommended in the comptroller's report.
According to New York State, only 53 percent of Camp Nyack students were also Village of Nyack residents. The summer program served between 95 and 137 students between 2008 and 2011. The comptroller's report cites a "potential savings" to taxpayers of over $216,000.
Year
Total
Students
in Program
Percent
Village
Residents
Potential
Savings*
2008
95
53%
72,600
2009
113
 50%
61,716
2010
113
51%
58,088
2011
137
56%
23,622
Totals
458
53%
$216,026
* The Comptroller's Office defines Potential Savings as "Calculated as $163,300 annual payment by village for 90 Village campers minus the cost for the actual number of Village campers participating per year"Source: State Comptroller's Report, page 9
The Village of Nyack hired a Village Administrator and a Village Comptroller in 2010 who assumed oversight of the Nyack Center in 2011. Although Nyack Center and village officials accept the findings, they question the numbers: it's not clear if residents of Waldron Terrace — a neighborhood with a Central Nyack address but which is part of the Village of Nyack — was incorrectly classified as non-resident. If this was the case, the "potential savings" estimate would be reduced.
What's left unsaid in the comptroller's report is what would have happened to these students if the rules had been strictly followed, as the adjacent jurisdictions of South Nyack, Clarkstown and Orangetown contribute very little if anything to the Nyack Center program. In the past, officials were loathe to deny services to students in need regardless of where they lived. "The comptroller is telling us that Clarkstown, Orangetown and South Nyack will need to contribute to this program — or set up programs of their own," said White.
See also:
Photo Credit: Richard Kavesh