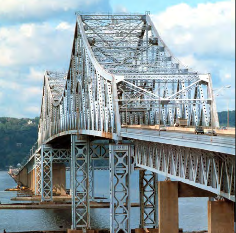 by Dave Zornow
Although there's no truth to the rumor that Andrew Cuomo ends each Tappan Zee Bridge meeting with the words, '€œMay The Political Force Be With You,'€ he did perform a feat worthy of Obi-Wan Kenobi last week. New York's governor used only four words to inspire the public, raise his Green Cred, subdue the press and derail organized opposition to a new Tappan Zee Bridge.
During a cabinet meeting open to the media last Wednesday, Cuomo seemed to endorse the idea of turning the current Tappan Zee Bridge into a pedestrian / bike greenway over the Hudson. '€œIt's an exciting option,'€ he said.
The efforts of the Tri-State Transportation Campaign (TSTC), which had been running radio ads to rally support for a mass transit bus system as part of bridge project, were immediately forgotten as hundreds of news accounts of the meeting hailed the governor's green scheme for the 56 year old bridge.
Andrew Cuomo's Political Force might even be more powerful than George Lucas' Star Wars Force because it permits two gigantic objects to occupy the same space at once. Previously, the NYS Department of Transportation had published plans to build a new second Tappan Zee span exactly where the current bridge now stands. Turning the current TZB into a greenway without explaining where the previously mandated new span would go is an impressive display of supernatural power. Or supernatural chutzpah.
Either way you have to say: Kudos, Cuomo.
And here's something that even old Ben Kenobi couldn't claim: Cuomo's Political Force can make seemingly insurmountable economic realities disappear. The estimated $15-$30 toll for the new $5.2 billion bridge was eviscerated during the cabinet meeting with a Powerpoint slide that claimed '€œany tolls would be consistent with other Hudson River crossings and include deep local discounts.'€ Of the hundreds of stories written about the meeting, no one asked how the old bridge  — with its current $50-100 million annual maintenance costs — could be economically justified when the Northern span of the new bridge already has a dedicated bike ped path.
On Tuesday at the Palisades Mall from 4-9p, bridge planners and the New York State Department of Transportation will take questions from the public about the Draft Environmental Statement for the new Tappan Zee Bridge released earlier this month. The public will be interested to hear if the same Political Force that allows two bridge to occupy the same place, turn the media mute and make economic realities evaporate will also be used to make the Hudson River Sturgeon disappear, too.
Sources: