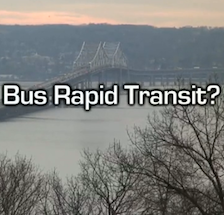 by Dani Simons
Sustainable transportation advocate Dani Simons worked with StreetFilms.org to produce a five minute documentary on how the hurry-up offensive push to build a new Tappan Zee Bridge sacrificed previously promised mass transit components. The film includes a number of local elected officials including former Nyack Mayor Richard Kavesh.
When you work on a project for ten years, and you attend scores of the public meetings about it, you get to hear a lot about what people are thinking, what's important to them, and why. That's been the case with the Tri-State Transportation campaign and the Tappan Zee / I-287 corridor project. We got involved in this project in 2006 because we are a non-profit that advocates for environmentally friendly, economically efficient, and socially just transportation system. We believe transit makes communities livable and desirable for everyone: businesses, seniors, children, students, and workers. We think transit is a crucial component of this project. And it turns out; we're not alone. Over the past ten years, officials from Rockland and Westchester have said that only by building transit from the start will this project relieve congestion in the I-287 Corridor and local arterials, improve air quality, achieve sustainability goals, and improve motorist travel time, throughout the region.
It came as quite a shock to them and to us when NYS Governor Cuomo decided this Fall to eliminate transit from the plans, wasting millions of dollars in state study and countless hours of public input.
Since not everyone was lucky enough (ahem) to sit through the 280 meetings on the Tappan Zee project, we decided to create a short film that captures some of the local stakeholders who have played a key role in the planning process for the project.
The film features Assemblymember Thomas Abinanti, Westchester County Executive Robert P. Astorino, Rockland County Transportation and Planning Commissioner Thomas B. Vanderbeek, P.E., Tarrytown Mayor Drew Fixell, former Nyack Mayor Richard Kavesh, as well as Tri-State's Executive Director Kate Slevin.
Hudson Valley residents and their local officials still want transit as part of the Tappan Zee project. Visit BRTonTheBridge.org for more information.
Dani Simons is a sustainable transportation advocate working in the tri-state area. She has over a decade's worth of experience promoting sustainable transportation in cities. She is currently consulting for the Tri-State Transportation Campaign.