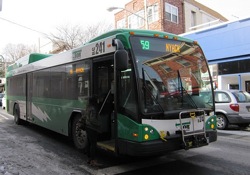 Nyack, Feb 19 — If you are working on Monday — or just taking Metro North into NYC or beyond — remember that the Tappan Zee Express bus will be operating on a Saturday schedule.  You can see the Saturday schedule on Monday by visiting tzxBus.com and clicking on the Saturday schedule button.
Here's more news you should know when taking public transportation on Presidents' Day 2012.
Metro-North trains will operate Saturday service. Call 511 or go to www.mta.info for
schedules.
Transport of Rockland (TOR) buses will operate Saturday service (TOR #95 and #97 do not operate). TOR Loop #1 and Loop #2 buses will operate normal weekday service.
TRIPS paratransit buses will operate A.D.A. service only.
Clarkstown Mini Trans bus service will operate Normal Weekday service. '€¢    Spring Valley Jitney buses will not operate.
Coach USA's Rockland Coaches (Red & Tan Lines) buses will operate Saturday service. Call (201) 263-1254 or go to www.coachusa.com.
The Haverstraw-Ossining Ferry will not operate.
Go to www.rocklandbus.com for TOR and TAPPAN ZEExpress schedules and links to all transit systems. Call the Transit Information Center at (845) 364-3333, Monday through Friday between 9 am and 5 pm for trip planning assistance.