By Lee Corey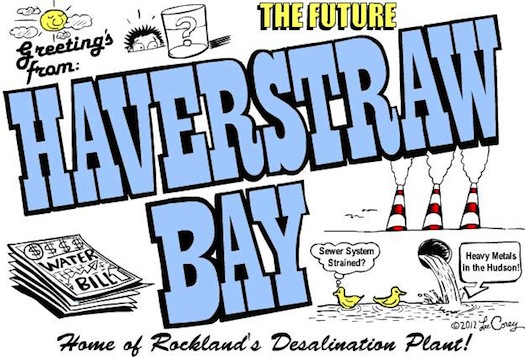 United Water hopes to build a desalination plant in Haverstraw Bay on the Hudson River.
CitizensCampaign.org opposes this construction because of the potential ecological damage resulting from salt, mineral, heavy metal and PCBs discharges into the Hudson River after the water has been extracted.
The Rockland Water Coalition says the estimated $140 million construction cost will increase each United Water customer's bill by $360 per customer per year. And environmentalists are concerned because desalination plants are energy hogs, consuming as much as nine times more energy than surface water treatment plants, increasing local energy demand on fossil fuels.
Lee Corey is the owner of CoreyToons, a small digital animation and design studio whose production credits including Nickelodeon, Cartoon Network and Disney TV. Lee is a long time resident of Rockland County and a part-time animation instructor at Pratt Institute.