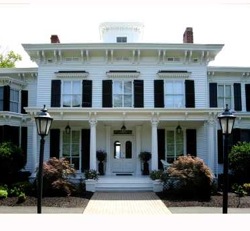 "Architecture is one of the most enduring clues to history," says Win Perry, the President of the Historical Society of the Nyacks. "It helps us visualize how people of various periods lived, what delighted them, what was fashionable, what they could afford, and how they chose to express themselves."  Nyack's rich architectural history is the focus of the historical society's Winter 2012 edition.
Articles include:
The designers of the original Nyack Hospital and St. Anne's Roman Catholic Church,  Marshall and Henry Emery,  left a lasting mark on the architecture of the Nyacks.
How Italian Renaissance designs like Pretty Penny and the St George Hotel found their way to Nyack.
Read all about it at NyackHistory.org.
See also:  As Others See Us: The Dirt On Pretty Penny, 2/4/2011
Photo "Pretty Penny." Credit: Ellis Sotheby's Realty