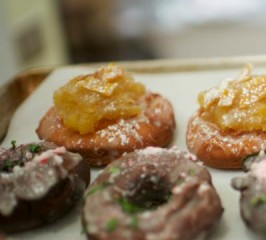 by David Schloss
Three Nyack familes who have been friends for decades are starting a new business from scratch, making donuts from scratch. Here's a progress report on Gypsy Donut And Espresso Bar, scheduled to open in late March on N. Franklin Street in downtown Nyack.
Anyone who has had children is familiar with the experience of having the days go by oh so very slowly and yet the months pass in the blink of an eye.
That's the same feeling when launching a new business, the mind-numbing and body aching exhaustion that comes with a day of multiple trips to the hardware store, post office, bank and so on. Days are very long, and yet a few weeks have gone by in an instant.
Our Kickstarter campaign was an incredible success, fueled oddly in part by someone on a local forum that decided to chide us and Nyackers for supporting us. Looks like local residents don't like to be told that helping out a new business is a bad idea, and they supported us at a much faster clip.
After a few weeks we've gotten about 90% of the funds that people pledged and that will be in our bank account shortly. (Here's our official thank you post.)
Our build-out, as is often the case, alternates between rocket-speed and full-stop. While checking out the overhead storage we have in the shop, we noticed that a previous fire from a previous era left the roof truss without the structure needed to keep the roof up. All work stopped when that happened and we brought in super-architect Kier Levesque again to look it over advise us on repair. We had local carpenter and contractor Gary Hecht come in, remove the sheetrock and repair the structure.
That left us with some missing sheet rock, so we've been rehanging that while finishing the cleaning of the brick walls. We'd remove the VOC-free (volatile organic compounds) paint stripper using a power washer but there are some parts of the wall where we can't clean with sprays of water, most notably around the light outlet and the fire pull box. Next we tried sandblasting, which didn't yield the result we wanted so we went back to hand cleaning.
At the same time we started planning for the Nyack Chamber of Commerce 55th anniversary party, where we'd been invited to bring some donuts. By the time the event kicked off we had a few trays of goodies including some (always popular) maple bacon donuts; a pineapple compote topped donut with homemade candied Meyer lemon peel; chocolate donuts with peppermint candy and fresh mint and basil; a donut with chocolate graham cracker, macadamia nut and sea salt; and a baked chocolate chip donut with fresh raspberry buttercream.
In the last few weeks we've also had a few meetings with our Nyack's new mayor, the fabulous Jen White, regarding our thoughts about making Nyack a foodie destination. We've had a few dozen lunches/dinners/brunches together as friends and we've celebrated birthdays and official additions to the Gypsy clan.
We took a trip to the exquisite-looking Toby's Estate coffee house in Brooklyn and also stopped at Blue Bottle Two very attractive, very differently appointed spaces. We were really happy to see that many of the ideas we had organically about the layout and design of the store are in place in some of these landmark shops.
We've also started to purchase the equipment for the shop (thanks to Kickstarter) and are taking delivery on some of the first elements.
Finally, we took a trip to Connecticut to a law firm that specializes in working with businesses with complex structures to get all of our contract ducks in a row. That became an excuse for us to stop at Frank Peppe for what was easily the greatest pizza I've ever had.
Up next is the replacement of the water heater (we still have no hot water line) and completion of the work on the brick wall. Then it's the floor and we can actually build and install counters and get the electrician and plumber into the shop to start getting it ready
Next week we're at Stumptown for training and visiting Mast Brothers, Brooklyn coffee roaster that will provide the chocolate for our store. I suspect that getting training at Stumptown will feel much like the first time I had a business meeting at Apple's headquarters'€"a surreal behind-the-curtain day.
Finally, every day one of us has had a word of encouragement from people we run into in Nyack. Thanks so much for that, it's really helpful when we're scraping paint off of a brick wall at midnight while our families are home nestled in bed.
David Schloss is a lifelong foodie with expertise in new businesses start-ups, social marketing and e-commerce. He is one of the  partners at Gypsy Donut and Espresso Bar.