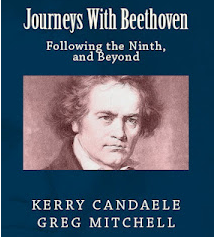 by Greg Mitchell
This Saturday night at 7:30p, as part of the long-running Carnegie Room classical music series at the Nyack Library, I will be offering a pre-concert talk related to my new book Journeys With Beethoven (written with film director Kerry Candaele). My own '€œjourney'€ began right here in Nyack, where I have lived for over twenty years, and written most of my 13 books.
There are more local angles. One chapter focuses on another Nyacker, Joseph Alessi, who is principal trombonist with the New York Philharmonic. I've known Joe since I coached in Little League (the subject of another one of my '€œlocal'€ books, Joy in Mudville). And, of course, I also mention what I call the '€œwonderful'€ Carnegie Room series. The program this Saturday, after my chat, features three of Beethoven's cello/piano sonatas, and I will be signing copies of my book before the concert and at intermission.
Journeys With Beethoven is, at last, a Beethoven for our time. Not the usual biography or academic tome, it follow's the composer's influence'€"musical, cultural, political–today, around the world and back in America. My co-author, Kerry Candaele, has completed a 90-minute documentary to be released this year, via a major distributor, titled Following the Ninth '€" and we are working with the Carnegie Room folks on arrange a local screening of some or all of it.
The book is in two parts, with Kerry providing the first section with chapters on his trips to Chile, China, Japan and London. In the first two locales, we learn about the use of the Ninth Symphony in changing people's lives'€"maybe even, their governments. Then, in Japan we are there for some of the annual December performances around that country with five or ten thousand in a chorus singing the '€œOde to Joy.'€ And in London, folk/punk singer Billy Bragg talks about re-writing the German lyrics to the '€œOde'€ in English, and performing it for the Queen.
In part two of the book , I explore my own growing obsession with Beethoven'€"way beyond the Ninth Symphony'€"over the past few years. The context is: Like Kerry, I have a '€œrock and roll'€ background, going back to my days as a top editor at the legendary magazine Crawdaddy. Now I detail my own travels to dozens of concerts in the Northeast, interviews with leading musicians (such as Alessi and pianist Jeremy Denk), Beethoven on film, and absorbing Beethoven through all of the modern electronic delivery systems: iTunes, YouTube, blogs and web forums, Twitter and more.
I've also just launched a new blog, Roll Over, Beethoven, with daily items and videos. For more information on our Journeys With Beethoven book, visit Amazon.com.
The Smigelskiy-Grinberg Duo perform Complete Cello Sonatas / Variations in the Carnegie Room of the Nyack Library on Feb 11 at 7:30p.

Variations in E-flat major on "Bei Männern, welche Liebe fühlen" from The Magic Flute, WoO 46

Sonata for Piano and Cello in G minor, Op.5 No.2

Sonata for piano and cello in C major, Op. 102 No.1

Sonata for piano and cello in D major, Op.102 No.2

Serafim Smigelskiy, cello
Yelena Grinberg, piano

General admission and reserved seating tickets may be purchased online or in person at the Library's Circulation Desk.

Tickets: $25 general; $20 senior; $18 member; $15 young adult (35 & under); $5 child (12 & under).

The Nyack Library is at 59 South Broadway, Nyack NY 10960

Contact: Soiree Society of the Arts
Contact Number: (845) 608-3593