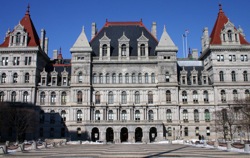 by Elijah Reichlin-Melnick
In Part I of this series of redistricting articles, Elijah Reichlin-Melnick explained how politicians can use the redistricting process to benefit their own interests. In Part II, he described how the district lines now proposed for the State Senate and State Assembly would slice up communities across New York to keep Republicans in control of the Senate and give Democrats a bigger majority in the Assembly. Now in part three, he discusses why it won't be easy to get better district lines, since it's not clear that anyone in Albany has an incentive to make it happen.
You can't always get what you want, but if you're negotiating over redistricting plans in New York, you can get what you need'€"as long as you can guarantee that everyone else also gets what they need. That's because the state constitution requires any redistricting plan to win approval from the State Senate, the Assembly, and the Governor. So making a prediction as to how the ongoing three-sided negotiations over redistricting will end means figuring out what each side wants, and guessing what they may be willing to do to make sure they get what they need.
Speaker Sheldon Silver and the Assembly Democrats
What they want: To protect their members and maintain the maximum possible number of Democratic seats. To draw new congressional district lines that remove two conservative upstate districts and protect incumbent democratic members of Congress.
| | |
| --- | --- |
| What they need: Even though New York is democratic enough that a non-partisan plan wouldn't threaten their majority, a non-gerrymandered map could give Republicans 8-10 additional seats and lead to nasty primary fights between Democrats thrown into the same districts. So Assembly Democrats will fight to avoid letting an independent panel draw their lines. | The CUNY Mapping Service at the Center for Urban Research has interactive redistricting maps available online for New York State. You can view race/ethnicity patterns within each district (to see if any of the proposed districts '€œcrack'€ or '€œpack'€ minority groups) as well as analyze past voting patterns. Here are links for current Senate District 37 and Assembly District 95. |

Majority Leader Dean Skelos and the Senate Republicans
What they want: To shore up vulnerable Republican Senators and create opportunities to win 2-4 seats from the Democrats, in order to add to their narrow 32-29 majority. To draw new congressional district lines that protect Republicans like Nan Hayworth who won narrow victories in swing districts in 2010, and eliminate two democratic congressional seats.
What they need: Senate Republicans have the most at stake in the negotiations over district lines since without aggressively partisan gerrymandering, it's nearly impossible to imagine the GOP retaining control of the State Senate. So Skelos needs to be able to use every tool in the redistricting toolbox to help Republicans keep their slim majority.
Governor Cuomo
What he wants: This is the million dollar question. As a democratic governor, the default assumption would seem to be that he'd want Democrats to gain full control in Albany. During his campaign and since taking office he has often said that he will veto district lines that are drawn in a partisan fashion. So as a Democrat who has previously sounded committed to non-partisan redistricting, Cuomo would have several reasons to veto these lines and refuse to sign any plan drawn in a partisan way.
However, as others have also observed, Cuomo's goals may not actually line up with those of the rest of his party. For one thing, with control of the Legislature divided between Democrats and Republicans, he can take the lead in setting the agenda for state government. Additionally, Cuomo has been able to accomplish most of his legislative goals since becoming governor, even contentious issues like gay marriage, with Republicans in control of the State Senate. On some issues, like the property tax cap, Cuomo would arguably have had a much tougher time if he'd had to negotiate with a united democratic legislature dominated by representatives from New York City, who generally opposed the tax cap. Cuomo certainly realizes this, and given his rumored presidential ambitions, probably realizes that swing state voters are impressed by a record of bipartisan accomplishments.
So does Cuomo really want district lines drawn by a non-partisan panel? When the current proposal came out earlier this month, he said that he views the proposed lines as '€œunacceptable'€ and would likely veto them. But in the past few weeks, Cuomo has been adopting a less combative tone and talking a great deal about the difficulty of getting the Assembly and Senate to agree to a non-partisan process. Of course, he's always known that legislators would fight any attempt to limit their redistricting power, so his new shift in tone may be a signal which way he's leaning.
What he needs: To maintain his image as a reformer who is changing Albany while keeping a friendly relationship with the state legislature in order to get his other big legislative priorities approved.
What Now?
Because New York waited longer than nearly every other state before releasing a draft redistricting proposal, the time for negotiations is rapidly running out. Adding even more urgency, the primary for New York's congressional elections was moved from September to June to comply with a new federal law. The legislature will probably move the primaries for Senate and Assembly elections to June as well, to avoid the multi-million dollar expense of two separate primaries. With elections less than four months away, and the time for candidates to collect petition signatures to get on the ballot supposed to start within four weeks, it's hard to imagine there's time to create an entirely new independent panel to draw district lines'€"lines that would still need approval by the legislature and governor. (The cynic in me suspects that the time crunch was intentional, since it gives everyone in Albany a good excuse to avoid turning the process over to a non-partisan panel by pleading '€˜we just don't have time.') While it's possible that if negotiations come to a standstill, a court could step in to draw maps, both political parties fear that a court drawn map would negatively impact incumbent legislators. Therefore, they will presumably try hard to avoid it.
The most likely outcome I see is that Governor Cuomo will insist on changes that tidy up some of the strangest shaped of the proposed districts and that he can then tout as a big improvement on the current plan. However, in order to have a chance of winning Republican approval for assembly and congressional plans that will satisfy incumbent Democrats, the new slightly less gerrymandered maps will still guarantee that Republicans keep control of the State Senate and that most Republican members of Congress are protected. Cuomo will claim that he wanted a non-partisan process, but that the rapidly approaching elections meant that a veto had become impractical. Senate Republicans will point to their vote in favor of an amendment to the state constitution that would put a non-partisan process in place for 2020 as evidence that they too support independent redistricting. Cuomo and the assembly Democrats may also go along with the amendment idea, but since New York's constitution requires amendments to be approved by in two consecutive years, a vote on an amendment will be purely symbolic unless the votes are around to pass it again in 2013, which I doubt will be the case.
The governor's veto power gives him great leverage, even if he seems reluctant to use it.  '€œIt's a complicated topic,'€ said Cuomo. '€œIt's very hard to communicate and I don't think they [voters] believe it's on their top tier of priorities.'€
If you want to prove the governor is wrong about voters' lack of interest in redistricting, let him know how you feel. Contact Andrew Cuomo and tell him that fair redistricting is a priority for you and that he must stick to his guns and veto these these proposed redistricting maps. Call Governor Cuomo at (518) 474-8390 or contact him online to ask the governor to make the right decision about New York State redistricting.
Elijah Reichlin-Melnick, a Nyack resident, was a candidate for Orangetown Council in last year's elections. He is the Vice-President of Rockland County Young Democrats, and majored in history and government at Cornell University.