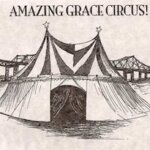 Nyack, Feb 15 — Tonight's premiere of Runaway Circus at the Nyack Center is not too different from the real life story of the director of the Amazing Grace CIRCUS! "I ran away from college in 1972 to join the circus because it was a lifetime dream," said Carlo Pellegrini, director of Nyack's youth circus program. "With all of the hardships and all of the wonderful moments, it was the perfect year.'€ Tonight you can take a peek under the Big Top that Pellegrini brought to Nyack in 2009 and see the struggles and triumphs of a new generation of performers in Runaway Circus, a short documentary by filmmaker Angela Snow.
The film shows how Amazing Grace's troupe of 12 teenagers learned the ropes to battle the rains, the mosquitoes and the bureaucracy to put on performances for 4,000 fans in Nyack's Memorial Park. "They created magic under the stars for two and a half weeks," says Pellegrini. "And they were rewarded with the magic moment of self-discovery… confidence beyond imagination, respect for themselves and the everlasting memory of creating something from nothing."
Circus magic doesn't happen without a lot of hard work, sleepless nights and detailed planning. Fans get to see talented gymnasts flying through the air; the movie also shows another kind of balancing act, as Pellegrini and his staff meet with fire marshals and the Department of Health, search for bleachers and bounce back from torrential rains.
The Wednesday night showing is a also a fundraiser for the Amazing Grace CIRCUS! which was started ten years ago by Pellegrini and co-founder Janet Hayes. Filmmaker Angela Snow and editor Tomoko Kamimoto will be on hand and the AGC! Youth Troupe will also perform. There will be Circus Art by Karen E. Gersch, a video montage by Deborah Grosmark and special Guest Artist Kenneth Lindemann, from the Montreal-based '7 Fingers' circus troupe, will perform his specialty handstand act.
Tickets in advance are $25 for adults and $10 for children and $35 at the door.  Call 845-348-8740 to purchase tickets in advance.