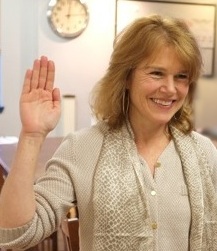 Nyack, Dec 31 — Jen Laird White was sworn in as Nyack's 37th mayor on Saturday at a standing room only ceremony in Village Hall.  Nyack Village Justice Rob Knoebel, Trustees Doug Foster and Marie Lorenzini also took the oath of office from Village Clerk Mary White.
NYS Assemblywoman Ellen Jaffee and outgoing mayor Richard Kavesh addressed the audience and wished White well in her new position. Kavesh presented White with a "Key to Nyack" as a welcoming gift.
Here are Mayor Jen Laird White's remarks following her swearing in.
The only words to start with are thank you. Thank you to my family, my friends, my colleagues. I thank each and every one of you for granting me the privilege and honor of serving as Nyack's 37th Mayor. Your help, your support and your enthusiasm were incredible and I am so excited at the opportunities we have before us.

I also want to acknowledge my colleague and my friend Richard Kavesh. I thank you for your service to us all and I hope that you will continue to be a tireless champion for our village.

We live in a difficult time. Everywhere you look there are struggles. Big struggles for economic equality, for the health of our planet and the health of our nation.

Regional struggles to restore our economic vitality and maintain and protect our infrastructure, programs for our children and our seniors and our public lands and our mighty Hudson River.

And more personal struggles'€¦simple things, things that don't feel like too much to ask, like jobs and good schools for our children and the ability to meet the needs of our families.

Together we can face and defeat each challenge. We live in a small community but a powerful community, 6,000 plus strong, united in our love of Nyack whether we arrived generations ago or just last week.

When my family came here, we were searching for a place that shared our values, a place that was rich with diversity, not just ethnic but cultural, spiritual, economic.

We could not have made a better choice. I am constantly amazed at how many wonderful people occupy our village.

Last week I attended a holiday party for lower income families thrown by a group of young men, who with no prompting from anyone raised the money for a tremendous party for kids who don't have as much as others, sharing presents, music and food.

My eldest son had an emergency appendectomy at Nyack Hospital last week. Everything is fine, he is fine, but I can not tell you how great it was to run up the street for excellent medical care. As I've said to those at the hospital, it was the most wonderful horrible experience you could have. How great is that? To live in a place where an emergency can be taken care of right near by, and by people you know.

I love that we live in a place where Fred Phelps and his hateful church actually came, all the way from the deep Midwest to little old Nyack, to denounce our community views on gay marriage and the police and residents stood silently by but made it clear their hate speech was not welcome.

I love that since I've been elected, I've received letters of support from people, good people who don't know me at all, who want to offer me anything from advice to the history of Nyack to a round of golf or a cup of tea.

I love that we live on the banks of the Hudson River where that Native Americans used to harvest oysters. If you dig deep enough in spots around our village you can find where they left their shells.

I love that my friend Bill is documenting the village, one sketch at a time and that my friend Jack runs the wackiest most wonderful bookstore in the world. That we have people like my friends Mary and Sal who fight like crazy for our kids and Candice who fights for our river and a seemingly endless number of other people like them, with passion to spare and voices to match. Nyack is a place full of passion and it is a place full of people who work hard.

I love that my neighborhood is a rich mix of people who've been here for ever and people who just arrived and we all run back and forth and shovel each others driveways, eat each others food, mourn each others losses and cheer each other's successes.

That we have an authentic French bakery run by a Frenchman, a post office named after real heroes and everywhere you look there are artists and writers. That there are people who live on the street, with no homes that we can ascertain and yet we all know them by name and protect as them as best we can.

I love that in Nyack, as a former village clerk once said, there's always a fool moon.
That's fool'€¦F-O-O-L. Every issue provokes passionate controversy, people are vocal and tireless and will fight like crazy and still sit down at O'D's for a beer after the fact and move on to the next issue'€¦be it sidewalks, superblock or, dare I say it, parking.

But I'm not telling you anything you don't know because my Nyack is your Nyack. In my last two years as trustee I have watched as more and more people have stepped off the sidelines and gotten involved. I stand before you today, so deeply proud to be your mayor and so tremendously excited at all we have before us. I know how much you all love this Nyack on the Hudson. I now ask you to join me, in what I think will be a most excellent adventure for all of us. Let's promise each other to leave this village, our Nyack, as perfect as she is'€¦ better than we found her.
Photo Credit: Rich White