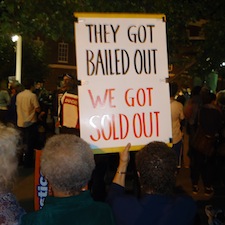 by Dave Zornow
Nyack, Jan 25 — When members of the Occupy Rockland movement drive home from their meeting tonight in Spring Valley, it's more likely that they will be listening to Aerosmith than Adele.
Although local support for Occupy Wall Street is about equal to the national average, support for the cause is greater among the graying than among young adults.
Four out of ten respondents to a Dec 22-28, 2011 survey conducted by NyackNewsAndViews say they fully support the objectives of Occupy Wall Street. That's consistent with national sentiment reported by several polls conducted from mid-October through December.
More than half of those survey expressed some doubts about Occupy Wall Street. A majority (43 percent) agreed with the statement "I support it in principle, but I don't understand its objectives" and 10 percent said "I have no sympathy for the cause or the protesters."
Which of the following statements best describes your opinion
about the '€œOccupy Wall Street'€ Movement?
Pct of
Total
I fully support its objectives
40%
I support it in principle, but I don't understand its objectives
43%
I have no sympathy for the cause or the protesters
10%
No opinion
6%
What's most surprising about the December Nyack results is that Adults 35+ showed more support for OWS than younger adults — which contrasts with the images seen at Zucotti Park and national polls. Among Adults 35+, 45 percent said they supported the movement compared to only 36 percent of Adults 18-34.
Steve White, who is associated with Occupy Rockland, but was careful to note that he was not authorized to speak on behalf of the movement, said the group was working on ways to reach out to the 60 percent.
"We have an organizing working group which is formed to reach out and broaden participation," he said. Occupy Rockland plans to hold a general assembly meeting at 7p on Jan 25 in the MLK Multipurpose Center, 110 Bethune Rd in Spring Valley.
These results are based on the responses of 220 online questionnaires completed by NyackNewsAndViews readers during December 22-28, 2011. Seventy-three percent of the respondents indicated they were from Nyack or the adjacent river villages with another 18 percent from elsewhere in Rockland County. Although these results are not necessarily representative of the broader population, they are consistent with other online polls conducted over the last several months.
See also: